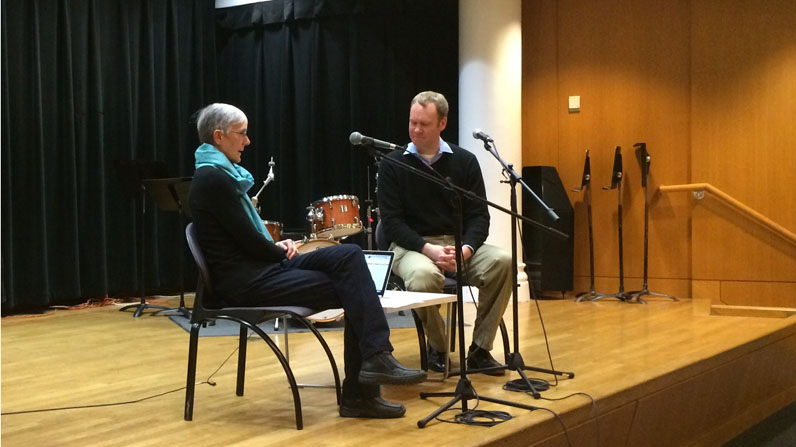 Sonic Gurus Talk All Things Aural at Make Music Monthly
It was the sort of erratic playlist that could empty out a crowded bar: the deafening assault of Drowning Pool's "Bodies"; the jingoism of Toby Keith's "Courtesy of the Red, White and Blue"; the cloying sweetness of Barney's "I Love You."
"Now, imagine being forced to listen to all these songs, at a very high decibel level, for 48 hours straight," New York University professor Suzanne G. Cusick said after playing them for an audience of visibly uncomfortable students in the Greenwich Village practice space of The New School for Jazz and Contemporary Music. "Imagine the constant bombardment of these songs at the same level of intensity."
Terror suspects held at U.S. military– and CIA-run prisons from 2001 to 2006 experienced just that. As Cusick explained, many detainees were subjected to a near-continuous barrage of sound and music—valued tools in an arsenal of "enhanced interrogation techniques" used in the War on Terror.
"There was a set of techniques—sleep deprivation, extremes of heat and cold, strobe lights, stress positions, waterboarding, gender humiliation, and, yes, loud music—that were used to break down a prisoner's ability to resist interrogation," Cusick, a professor of music, added.
Cusick made her remarks during the latest edition of Make Music Monthly, a podcast series featuring musicians and musicologists in discussions of all things aural. Hosted by Make Music New York (MMNY) and The New School for Jazz and Contemporary Music, the conversations are recorded in front of a live audience at the Jazz Performance Space at The New School's Arnhold Hall.
"As a hotbed for leading-edge creative and innovative thinking, The New School is the ideal setting for this important discussion series," said Philip Ballman, coordinator of Special Programs at New School Jazz. "Together with Make Music New York, we're bringing thought-provoking discussions with eminent musicians and musicologists to the New School community, New York City, and beyond."
Speaking with MMNY president Aaron Friedman, Cusick detailed the disturbing history behind the torture techniques employed in the War on Terror, beginning with the sensory deprivation studies conducted by Donald O. Hebb at McGill University in the 1950s. The U.S. military and the CIA drew on Hebb's studies in devising the torture techniques used on detainees at Guantanamo Bay, Abu Ghraib, and other prisons around the world from 2001 to 2006.
The U.S. Senate Intelligence Committee report on CIA torture confirmed much of what Cusick found: the use of waterboarding and sexual assault as interrogation techniques, "but also the CIA's use of music blared loudly and unpredictably at detainees."
"I found this shocking and surprising because I've always found music pleasurable, not a means of torture," she said.
Not only were these tactics inhumane, but, said Cusick, citing the Intelligence Committee report, "they produced no actionable intelligence."
Make Music Monthly picks up on Wednesday, February 18, with composer, musicologist and record producer Ned Sublette in a discussion about Cuba, its music, and the future of its artists in light of the recent normalization of diplomatic relations with the United States. The series continues with Andrew Cyrille on Wednesday, March 18; Charlie Morrow, David Rothenberg, and David Soldier on Wednesday, April 15; and Anastasia Tsioulcas on Wednesday, May 27.
For more information, visit makemusicny.org/make-music-monthly.