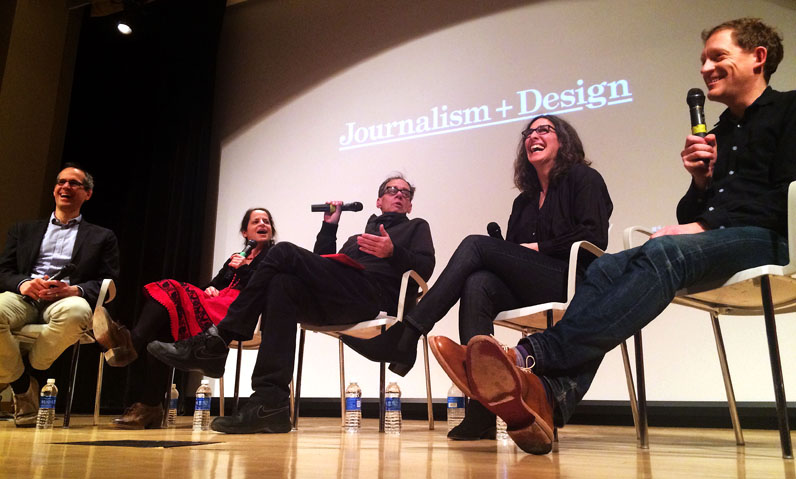 Sarah Koenig Talks Serial and the Podcast Explosion
Sarah Koenig, producer and creator of the hugely successful podcast Serial, was embarrassed to admit it: Before last year, she had never listened to a podcast.
"I didn't know anything about podcasts; I didn't know what they were, or what they should be," she announced to a rapt audience of students and faculty packed into The Auditorium at 66 West 12th Street. "I was like, record a podcast? Sure! Who cares? Why not try it? Nobody listens to them anyway."
So, it was "shocking" to her when Serial, a weekly podcast she began hosting last year, became so big. Prompted by David Carr, the New York Times reporter and media critic, Koenig hinted at the reason for the phenomenon.
"People feel like they know me, and maybe they do," she said. "If you do three episodes of anything, you're in it; you're in that world. It's very intimate what happens when you listen every week."
Koenig made her remarks during "Serial and the Podcast Explosion," a discussion of the unprecedented popularity of Serial, the creative renaissance in podcasting, and what it all means for the media industry. Koenig and Carr were joined in the discussion by Alex Blumberg, creator of the podcast StartUp, former producer of This American Life, and founder of NPR's Planet Money; Benjamen Walker, host of the podcast Theory of Everything and one of the founding members of Radiotopia; and Alix Spiegel, a founding producer of This American Life and co-host of the new NPR series Invisibilia.
Koenig, Carr, and their fellow panelists, who came to The New School at the invitation of the Journalism + Design program at The New School's Eugene Lang College, discussed the meteoric rise of the podcast industry, from its development in the early 2000s to its recent surge into mainstream consciousness. That evolution has been aided in no small part by Serial, a podcast about a 1999 murder investigation that has been downloaded or streamed more than five million times since it begin airing in October.
"At Journalism + Design, we're always interested in the new ways that people are telling stories and reaching audiences," said Heather Chaplin, director of the Journalism + Design program. "The behavior around Serial indicated that something has changed—mass audiences have taken to podcasting, which means that there is a potential new model in which creative and smart journalism can flourish."
For podcast creators, that model offers several benefits: Podcasts are inexpensive to produce, accessible to everyone, and, from Koenig's perspective, "freeing" in relation to writing and recording straight news (she was a reporter for several newspapers and a producer on This American Life before developing Serial).
Carr wondered aloud about the pitfalls of podcasting, including the threat posed by the medium to listener-supported public radio.
"I'm interested in whether you guys think podcasting is the best thing that ever happened to public radio or the worst," Carr asked, eliciting laughter from the audience.
He also expressed concern about the potential for podcasts to segment audiences.
"You have these verticals of interest, people self-selecting based on the voice or the topic or the aesthetic, and then there's the great village common of public media," he said. "Don't you guys worry that the middle, that the place where we all meet, will go away?"
Koenig expressed concern that as podcasting soars in popularity, it will become more and more difficult for small independent creators to find audiences—and profitability. She hoped that podcasts would retain their democratic nature, creativity, and "intimacy."
"The thing I hope for it is that the looseness stays there as it becomes more of a mainstream thing," Koenig said. "The spirit of the thing is cool right now."