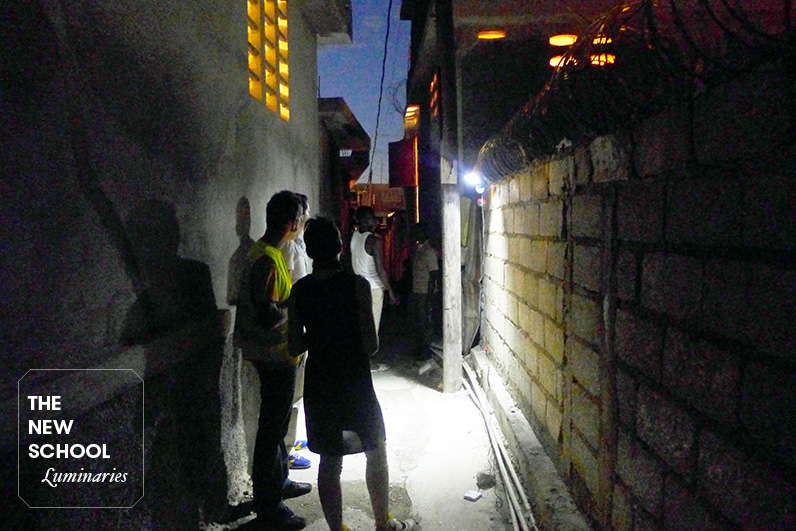 Bringing Light to Communities Around the World
On an evening walk through Martissant's informal settlements in Port-au-Prince, Haiti, Nathalie Rozot stepped into a reality that would be unthinkable to the average New Yorker.
"We were in almost complete darkness," Rozot, a part-time professor at Parsons School of Design, recalled of her last trip to the Haitian capital.
With its luminous skyscrapers and ubiquitous streetlights, lighting is often taken for granted in New York City. But for the residents of Martissant, where electricity is nonexistent, inadequate illumination is a fact of life. After the sun goes down, shops cannot sustain business, people cannot travel safely, and students cannot study.
Rozot is hoping to change that. Working with Concepteurs Lumière Sans Frontières (CLSF) (aka Lighting Designers Without Borders) and Fokal, a nonprofit in Haiti that is part of George Soros' Open Society Institute, she is leading a pilot initiative to bring solar-powered lighting to about 1,000 families. For Rozot, lighting designers have a role to play in ensuring that the need for light is answered with the right expertise.
"Lighting design is not a field generally associated with socially engaged work," Rozot says. "However, a few lighting professionals with a social conscience have organized nonprofits and provided pro bono design work for public interest worldwide; they are proof that lighting design can be a force for social good."
Rozot and like-minded lighting professionals will be on hand to present their projects and initiatives at a public event, From the Right to Light to the Right Lights, on Friday, March 13, 3:00–6:00 p.m., at the Sheila C. Johnson Design Center, 66 Fifth Avenue.
A former director of l'Observatoire International Inc., Rozot started her own lighting design and research practice in 2006. At that time, she also began to pursue a long-held interest in socially engaged design, lecturing internationally and writing on the topic (she published a piece in Scapes, a publication of Parsons' School of Constructed Environments). In 2007, she joined CLSF, a nonprofit dedicated to meeting the lighting needs of populations in emergency or post-emergency situations; in 2011, she founded PhoScope, a think tank committed to facilitating change in the practice, teaching, and critical study of lighting.
The project in Martissant's settlements began in 2013. After her first trip, Rozot drafted an analysis to "break down the need for lighting into three scales of solar-powered solutions": lighting for community gathering places, such as playgrounds; stationary fixtures installed in a variety of "circulations," or paths of human movement; and portable lights for homes. She researched solar-powered lighting fixtures from Haitian-based manufacturers and local distributors and set up a process for quality assessment before the pilot project could be launched.
"Our mission is to provide expertise and transfer our knowledge, not to impose design projects," Rozot says. "For every aspect of the project, we report to members of the community."
Rozot's practice also extends to the classroom. At Parsons' MFA Lighting Design, where she has taught for 15 years and currently leads the program's thesis year, Rozot advocates for socially engaged design to her students. Not surprisingly, some of them have participated in activist-driven projects and initiatives both in the United States and abroad.
"Nathalie always encouraged social activism and community-oriented design in class, and she has always been supportive of students who want to pursue work in those areas," says Francesca Bastianini, a graduate of the MFA Lighting Design program, former thesis advisee of Rozot's, and senior designer at Lumen Architecture, who has researched lighting options for homeless populations in New York. "Several of her advisees have gone on to provide services for underserved populations."
This year represents a bright moment for socially engaged lighting design. In January, the United Nations launched International Year of Light (IYL2015), a campaign that aims to raise awareness of the achievements of light science and its importance to humankind. Rozot believes that the attention given to "the right to light," as she calls it, can help bolster the work of socially conscious designers.
Says Rozot, "Lighting designers have a large role to play by teaching and supporting quality control and empowering communities with the lights that are right for them."