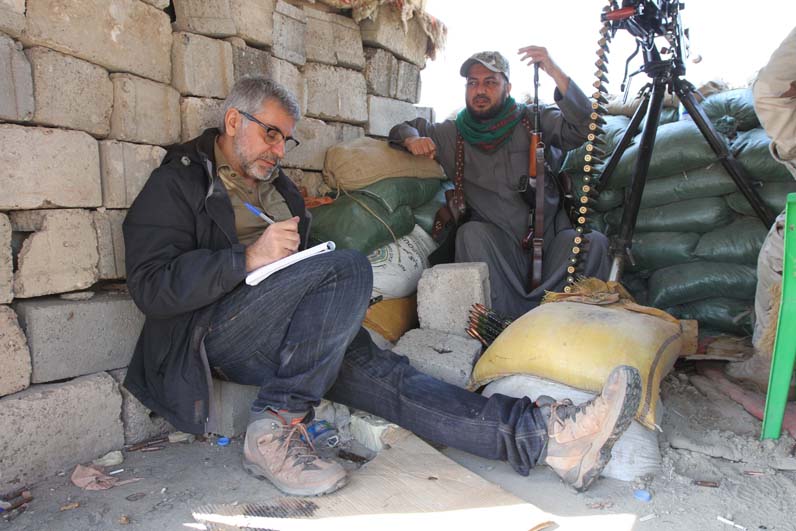 #Lang30: A Foreign Correspondent On The Front Lines of Conflict
Borzou Daragahi (Liberal Arts, '91) has just returned from the battle frontlines between the Isalmic State and Shia militiamen. All he wants to do is watch cartoons with his daughter, Samarra.
Daragahi is exhausted. It's been a crazy few months, after all. Heck, it's been a crazy decade. After reporting on the Iraq War for five years, Daragahi covered the Russo-Georgian War and the conflict in Lebanon in 2008, and the Iranian uprising in 2009. Then, the Arab Spring happened.
"Ever since then – in 2011, 2012, 2013, 2014, 2015 – it's been nonstop," Daragahi, a Middle-East correspondent for the Financial Times, says. "I'm really tired."
Through all of his experiences, Daragahi has survived on tenacity, savvy and his acute awareness of his surroundings. He's also relied on his ability to challenge assumptions and uncover the truth—lessons he learned, in part, at Eugene Lang College.
"I never did journalism at Lang, and maybe that was a good thing," Daragahi says, laughing. "However, I did learn how to be a good reader, to analyze the world as text; whenever I'm driving into a conflict zone, I can figure out how fighting erupted a day or two earlier."
Currently, Daragahi is reporting on Libya, where two rival governments are battling for control of the country. Not only is the conflict complicated, Daragahi says, it also has been neglected in favor of stories in Iraq, Syria and Iran.
"It wasn't until these 21 Coptic Christians were killed that anyone started paying attention," said the Cairo-based correspondent. "I feel duty bound to cover it. I really cherish the Libya story."
It's clear too that Daragahi is driven by passion for his work. Even when exhaustion hits, he's still thinking about his next story.
"I'd like to make Turkey my next assignment," he says. "It's a lovely blend of East and West."
Every Thursday, New_S presents a new story celebrating the 30th anniversary of Eugene Lang College. Are you a Lang graduate with a story to share? If so, please go here.