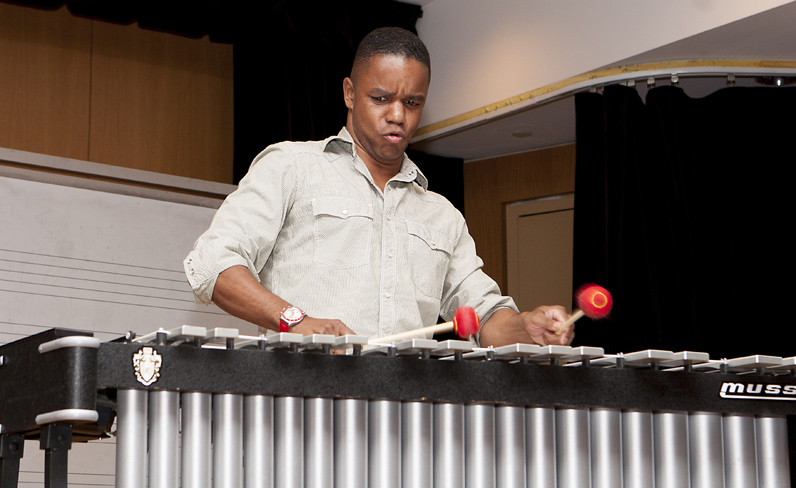 Learning from the Masters: A Jazz Tradition
Before there were jazz degree programs, music concentrations, required courses, and suggested electives, aspiring jazz musicians honed their craft by hitching a ride with touring bands and established professionals. They learned from the masters.
When legendary saxophonist Arnie Lawrence co-founded The New School for Jazz and Contemporary Music in 1986, he wanted to preserve that student-mentor relationship from the early days. Nearly 30 years later, that model is epitomized in the course Eyes of the Masters.
Nearly as old as the school itself, the class invites what instructor Phil Ballman calls "the elders," as well as the next generation of musical thinkers keeping the art form fresh, into the classroom. Ballman has been leading the course since 2011.
"Until the late 1970s, there were no schools where aspiring young jazz musicians could learn the art," says Ballman, the coordinator of Special Programs at Jazz. "Some, like Miles Davis and New School faculty member Andrew Cyrille, went to conservatories like Juilliard for a few years, but then they'd drop out and go on the road to really learn how to play jazz. It wasn't being taught in the classroom back then."
His course brings the road—and the mentor—back to the students. And not only Jazz students: Held for two hours each week, the mentor sessions are also open to the public. The programming varies from intimate conversations to jam sessions to demonstrations of new technology.
Mentors include both long-established musicians and younger artists. Vibraphonist Stefon Harris, a guest in 2011, showed the class how to hear chords and harmony through color. In 2012, saxophonist Rudresh Mahanthappa taught students a new melodic framework with a south Asian influence by constructing a piece in a combination of odd meters, rather than the duple (divisible by two) meter typical of American jazz.
"Bringing in renowned masters definitely offers a ton of insight, and it's inspiring to be in their midst, but it's also important to bring in artists that are working at the cutting edge of their craft," Ballman says.
That includes artists like Pauline Oliveros, an iconoclastic composer who for 50 years has been expanding the boundaries of electronic music and sound, and Brazilian percussionist and computer music innovator Sergio Krakowski. "These contemporary musicians challenge students to see the potential creativity in their own music."
Eyes of the Masters hosts six to eight artists each semester. The rest of the time, students enrolled in the class ("a few dozen," for one credit) prepare for the upcoming visits by listening to the artists' music, reading their biographies, and becoming familiar with their unique sound.
When the course concludes, some students actually hitch a ride with the masters. Brianna Thomas, a 2012 graduate, was asked by pianist Geri Allen to audition for her after she sang in Allen's class.
This semester's schedule of visiting artists:
March 6: Albert "Tootie" Heath 
March 13: Maria Schneider
March 20: Sergio Krakowski
April 3: Becca Stevens (New School Jazz alumna)
April 10: Fred Wesley
April 24: Henry Grimes