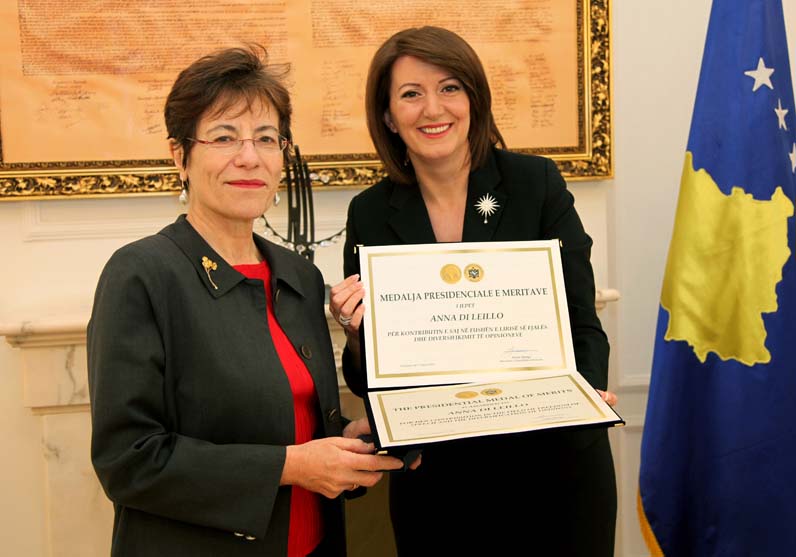 Milano's Anna Di Lellio Honored By President of Kosovo
Anna Di Lellio may not be from Kosovo, but for a non-native, she sure has the respect of the Kosovar people.
Last month, Di Lellio, a faculty member in the New School's Graduate Program in International Affairs (GPIA), was awarded the Presidential Medal of Merits by the Atifete Jahjaga, president of the Republic of Kosovo, for her contribution to the country in the field of culture.
Di Lellio, who teaches in GPIA's Conflict and Security Concentration and has run the International Field Program site in Kosovo since 2009, began her engagement with Kosovo during the 1999 NATO intervention, when she worked in the Kukes refugee camp in Albania as spokesperson for the United Nation World Food Program. After the war, she was the temporary media commissioner under the aegis of the Organization for the Security and Cooperation in Europe (OSCE); research analyst and advisor on the Kosovo Liberation Army program of reintegration for the International Organization for Migration and the United Nations Mission in Kosovo; and political adviser to the Prime Minister.
She is the author of several articles on the politics of war and peace in Kosovo, the editor of The Case for Kosova: Passage to Independence (Anthem, 2006), and the author of The Battle of Kosovo 1389: An Albanian Epic (I.B. Tauris, 2009).