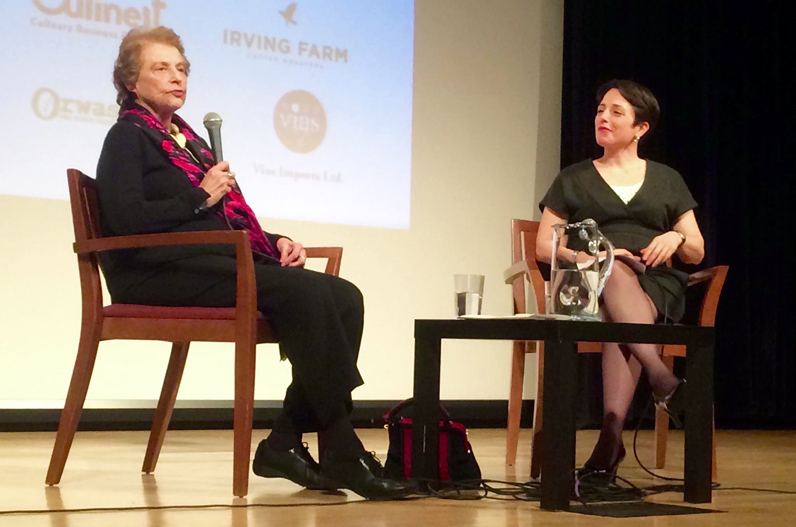 A Celebration of New York City's Food
In the aftermath of Hurricane Sandy, Rozanne Gold wanted to do something to help the thousands of people who had been evacuated from the city's nursing homes.
A celebrated chef, author and restaurant consultant, she helped the best way she knew how: by feeding them. Over the next several months, Gold and her fellow congregants at Congregation Beth Elohim in Park Slope, Brooklyn, set about serving more than 100,000 meals to victims of the storm.
"Without everyone's involvement, we would have never been able to reach our goal," Gold said before an audience at The New School's Auditorium at 66 West 12th Street last week. "This effort really demonstrated the power of the community."
But if the storm brought out the best of Congregation Beth Elohim, it also brought out a heightened awareness of just how severe the problem of food insecurity is in New York City.
"Before Sandy, we never knew anyone who was hungry; even on Yom Kippur, when we fast, we have no idea what real hunger is," Gold said. "Sandy brought to our door all those people close to our community who grapple with hunger every day."
Gold made her remarks during "The Crisis of the Empty Plate: Hunger, Resilience, Recovery," one of six panel discussions held during the two-day conference "Gotham on a Plate." Sponsored by Food Studies at Public Engagement, The Julia Child Foundation, and the Greenwich Village Society for Historic Preservation, the conference brought a range of top-notch panelists together to discuss various aspects of food in New York City. Mimi Sheraton—an influential journalist, restaurant critic, and cookbook writer who has lived in Greenwich Village for 70 years—gave the keynote address.
"Panelists delved into everything from the culinary influence of immigrant communities to post-disaster systems of food procurement and distribution to the future of dining in New York," said Andrew Smith, a part-time assistant professor in the Food Studies program and the founder of the event. "What an amazing opportunity to celebrate the culinary culture of New York City and to confront some of the most pressing issues facing our food distribution system."
One of those issues, as highlighted by panelists on "The Crisis of the Empty Plate: Hunger, Resilience, Recovery," is the city's food procurement and distribution networks. Nevin Cohen, associate professor of Health Policy and Management at CUNY School of Public Health and moderator of the panel, noted that residents of vulnerable communities face myriad challenges—from limited resources to lack of access—when it comes to obtaining fresh, nutritious foods. Those challenges, he said, become even more acute in the aftermath of natural catastrophes such as Hurricane Sandy.
"The vulnerabilities are unevenly distributed," he said. "Most economically vulnerable neighborhoods are at greater risk."
Organizations such as Holy Apostles Soup Kitchen, the largest emergency feeding program in New York City, have been trying to address food insecurity for decades.
"Holy Apostles started as a temporary solution, and 32 years later, we're still here," said Michael Ottley, director of Holy Apostles. "It's a sad thing that in one of the most powerful countries in the world, chronic hunger continues to be an issue. I wish I could say that we could go out of business tomorrow, but I don't see that happening."
Emergency food providers "will ultimately have to move beyond the work they've done in crisis response to something that's more sustainable," said Kate MacKenzie, director of Policy and Government Relations at City Harvest, an organization that collects excess food from the food industry to donate to hungry New Yorkers.
"The moment of disaster recovery is crucial, but how do we move beyond that to get back to a sense of normalcy?" she asked. "If we prevent business from coming back, there's no sense of long-term recovery."
The panelists offered a number of solutions to the issue: redirecting excess food from restaurants, grocers, bakeries, manufacturers, and farms to hungry communities; incentivizing retailers of fresh, healthful foods to move into vulnerable neighborhoods; and expanding economic opportunity. New York City's food procurement and distribution networks also need to be reformed in order to withstand catastrophic situations such as Hurricane Sandy, they said.
"The challenge is to connect the dots, to show that what we're eating is dependent on the weather and the social fabric of communities," MacKenzie said. "It's a hard story to tell, but it's a story that needs to be told. Food alone isn't going to solve hunger."
Gotham on a Plate is part of the public event series organized by the growing Food Studies program at The New School, which now offers a major, a minor and starting from the fall – a two-year associate degree. For more information, visit www.newschool.edu/continuing-education/food-studies.