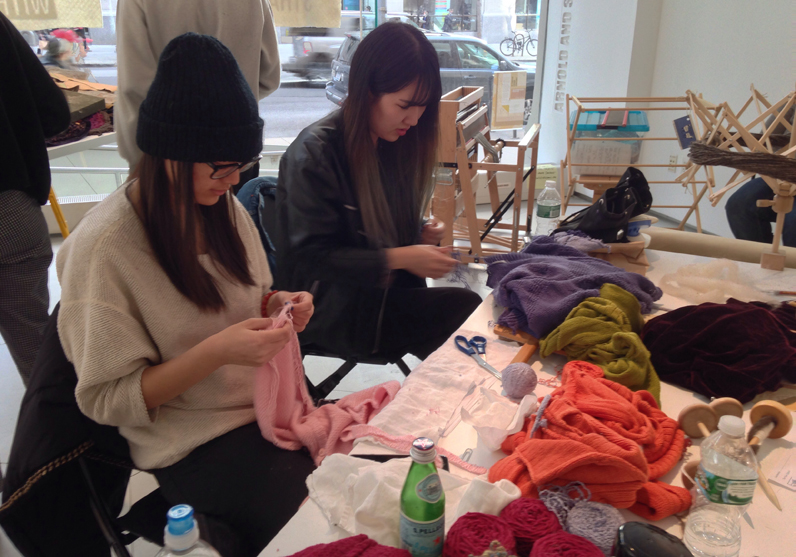 Green to the Core: The Top Five Headlines About Our Commitment to Sustainability
From the achievements of its fashion alums to the launch of its new visual identity, The New School has been popping up in the news a lot as of late.
But the media has also turned its attention to the university for an entirely different reason: its efforts to confront climate change.
Here's a look at the top five news stories about The New School's green initiatives, including its divestment from fossil fuels, its commitment to green buildings, and the appointment of a new sustainability-minded dean at the School of Fashion at Parsons.
"The New School Divests Fossil Fuel Stock and Refocuses on Climate Change"
New York Times, February 6, 2015
Reporter Jason Schwartz's lead says it all: "Many universities have decided to drop fossil fuel stocks from their investment portfolios, but the New School in New York City has decided to go a step further." In announcing The New School's plan to divest from all fossil fuels in the coming years, Schwartz also highlights the university's commitment to "reshaping [its] entire curriculum to focus more on climate change and sustainability."
"This Earth Day, Green Is the New Denim"
New York Times, April 22, 2015
Reporting on the growing influence of sustainability in fashion, Vanessa Friedman cites the appointment of Burak Cakmak as the new dean of the School of Fashion at Parsons School of Design. "We were looking for someone who could articulate the future of fashion and be a crossover figure, and Burak," an expert in the field of sustainable design, "made the most compelling case," Parsons Executive Dean Joel Towers tells Friedman.
We Chatted With A Future Fashion Designer About How She Wants To Change The Industry
Collectively, April 14, 2015
Reporter Rachel Singer visits Parsons' Alternative Fashion Strategies: Design Incubator with Green Eileen exhibition and comes across the "future of ethical fashion": in this instance, Parsons student Nica Rabinowitz. "When people think about design, they sometimes isolate it into one little step," Rabinowitz tells Singer. "They're not thinking about the manufacturing, or the farm where fabrics came from, and then what's the process—it got woven, or crocheted, and then thinking about what happens after a customer buys it. How are they going to wear it, how will it wear over time, should I design it so it's designed for wear over time, or should I put holes in it already? We have to be thinking about the whole system."
"The Rat Paths of New York"
New York Times Magazine, April 23, 2015
In his fascinating piece about how rats "get to where they're going" in New York City, reporter Ryan Bradley interviews The New School's own Timon McPhearson. A professor of urban ecology, McPhearson uses the subject of rats to open up a larger discussion on the benefits of building a connected city. "McPhearson's fundamental point," Bradley writes, "is that spaces where animals can move freely are good for people too."
Step Inside The 10 Best Green Buildings of 2015
Fast Company, April 22
When the American Institute of Architects' Committee on the Environment announced its list of the 10 Best Green Buildings, it was no surprise that The New School's University Center was among them. Fast Company's Adele Peters writes, "As one unique feature in its quest to meet LEED gold standards, the building stores ice at night to help cool more efficiently in the summer. Super-efficient LED lights and natural daylight reduce power use, while an onsite cogeneration plant harvests heat while it generates electricity. Greywater collected from toilets and sinks is used to water a 13,500-square-foot green roof."