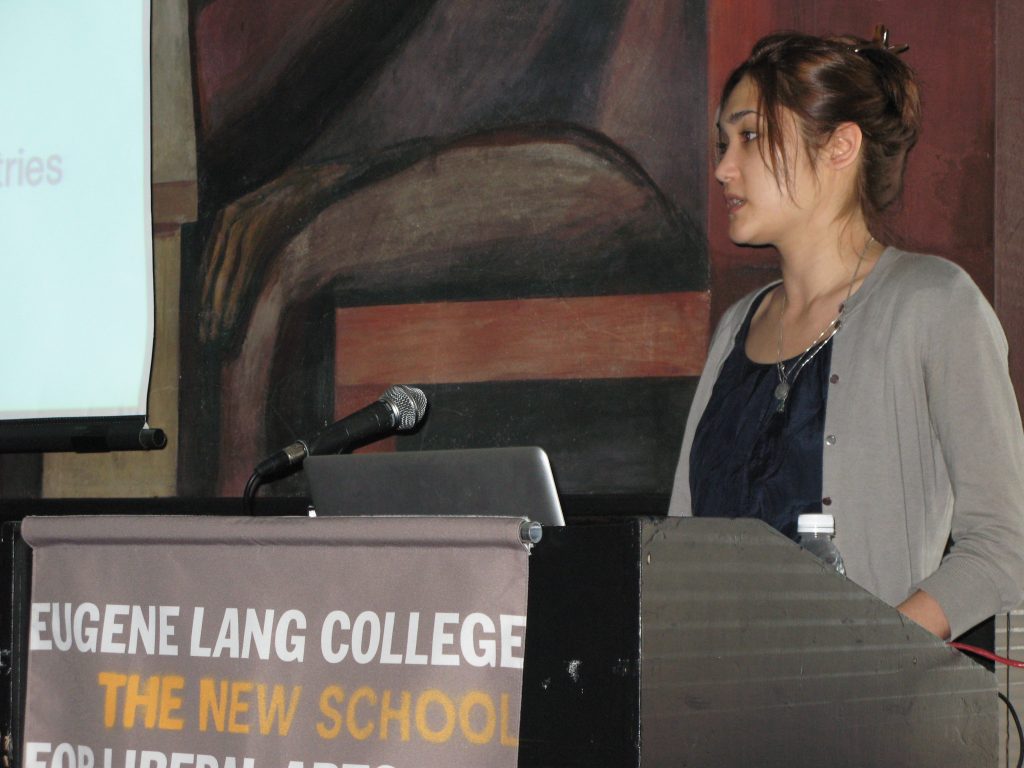 #Lang30: A Scientist Who Looks at the 'Big Picture'
Angelica Ferguson never could have imagined spending her career peering through a microscope at tiny ribosomes.
In her first year at Eugene Lang College, she studied Culture and Media and later, made the leap to the Parsons Fashion Design BFA program.
"Then, I took a class with Katayoun Chamany on infectious diseases," Ferguson recalls. "It was so awesome that I left BFA and went into Interdisciplinary Science."
Now a PhD student doing breakthrough research in microbiology and infectious diseases, Ferguson laughs about how she "graduated from The New School with a double concentration — science technology and society and cultural studies and media."
Multi-disciplinary, socially engaged and unafraid to take risks, Ferguson certainly fits the Lang mold.
Although Ferguson took a circuitous academic path, she ended up in the right place, pursuing her passion. A PhD student in the Chemical Biology Program at Weill Cornell Medical College, Ferguson studies ribosomes, the complex molecular machines that create proteins.
"If you figure out how this machine works, you can figure out why it doesn't work properly in different disease states," says Ferguson who works at Cornell's Blanchard Lab. "Then, you can figure out how to treat those diseases."
At Lang, Ferguson also learned how to think critically, a hallmark of a New School education.
"The classes at Lang are based on the Socratic method, which was great for me, because I had never learned science in a setting like that," she recalls. "At Lang, science is put into a sociological context, so you can see how it applies to real human beings. That whole style of education made me into someone who looks at the big picture. Its why I'm doing what I'm doing."
Ferguson will be in attendance at the Science Lab Open House on Monday, April 6, 4:00 pm to 7:30 pm in the University Center, Room 618, 63 Fifth Avenue. Attendees can experience the newly constructed University Science Lab, where there will be hands-on demonstrations and information about lab modules that integrate science, art, and design in courses that promote social change across The New School.
Every Thursday, New_S presents a new story celebrating the 30th anniversary of Eugene Lang College. Are you a Lang graduate with a story to share? If so, please go here.