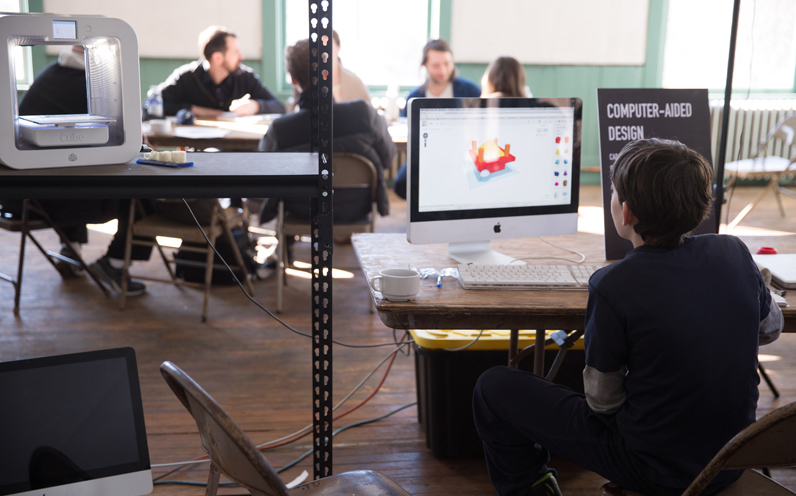 Bright Ideas: New Challenge Winners Present Transformational Projects
Lexy Ho-Tai's friend Lamont had never made a painting by himself before.
It wasn't for lack of interest: Lamont has a physical disability that restricts him from handling a paintbrush. He's always wanted to paint, but couldn't do so with conventional means.
So, Ho-Tai, a student in Parsons' BFA Fashion program, set about designing tools that would allow Lamont—and other aspiring painters with similar disabilities—to pursue their artistic passions.
"The goal is to provide disabled youth with appropriate instruments, based on their particular physical needs and preferences, which will allow them the means to participate in art activities independently," says Ho -Tai, who developed the project with Martha Gold-Dvoryadkin, co-founder and executive director of Blissful Bedrooms. "In this way, disabled youth can have the freedom to fully express themselves through art."
Ho Tai's project, Accessible Art, is among the 11 winners of New Challenge, The New School's ideas competition, in which students develop innovative solutions to urgent social and environmental problems. The winners receive between $2,500 and $10,000 to take their ideas to the next level of implementation, as well as mentorship and workshops.
Reflecting the diversity and creativity of the New School community, New Challenge features entries of all types, from ideas for new products and services, social ventures, policy-oriented initiatives and performance projects to documentary films, technology applications and game designs.
"The winners come from programs across the university, but they all have one thing in common—they have a transformational idea," says Mary Watson, executive dean of Public Engagement at The New School.
"It is our job to create an ecosystem to support that idea—to help students develop as change makers and tackle societal and environmental issues head-on," says Michele Kahane, professor of professional practice at the Milano School of International Affairs, Management, and Urban Policy, who co-founded and has co-led New Challenge with Watson and Cynthia Lawson, associate provost for Distributed and Global Education and associate professor of Integrated Design at the School of Design Strategies.
Winning ideas include a project aimed at transforming a network of vacant lots into community gathering spaces (Constellation Project); fashion designs for people with physical disabilities (Disability and Beauty); a participatory media project that empowers newly immigrated youth (I Need to Be Heard!); an integrated co-working and maker space (North School Studio); a project that uses cutting-edge advances in bioremediation to address plastic waste management (PUR BIO REM); a project that explores human-powered and human-centered systems in developing world megacities (The Dumb City Project); and a Web-based initiative that provides resources for housing justice in New York City (Tools for Housing Justice).
There are also apps that help youth protect themselves from human trafficking (BeyondABC), provide real-time monitoring of road construction projects in Uganda (M-App) and enable at-risk young adults with learning disabilities to succeed in their academic and professional careers (Circle Up).
Now in its fourth year, New Challenge drew 67 submissions from more than 100 students across The New School. Past winners have taken their projects into the next phase of their formal careers. Sean Baker and James Frankis, graduates of Parsons' Transdisciplinary Design (MFA) program, designed a disaster response system that allows local leaders to capture and access real-time footage of their communities in the aftermath of natural disasters (Project Fogg); Amy Chasan, a graduate of Milano School's Nonprofit Management program, launched a custom bakery that improves access to arts education by partnering with, and donating to, arts organizations and schools (Sweet Generation); and Lien Tran, a graduate of Parsons' Design & Technology program, created games that teach immigrant youth their legal rights (Amigo Legal).
As in past editions of New Challenge, this year's projects were judged according to their clarity of purpose, demonstrated level of understanding of the problem addressed, potential for impact, strength of the presentation, leadership opportunities, and the degree of collaboration involved in fulfilling their missions.
As one of the 11 winners, Accessible Art certainly fulfilled those criteria—and hopefully, the artistic dreams of physically disabled people everywhere.
"Often individuals with disabilities find that their physical limitations preclude them from having opportunities to take part in art activities, such as painting or drawing, using traditional methods," Ho-Tai said. "Accessible Art will fill that gap and open a whole new outlet to disabled youth who have an interest in making art."
For more information about New Challenge, visit newchallenge.newschool.edu.