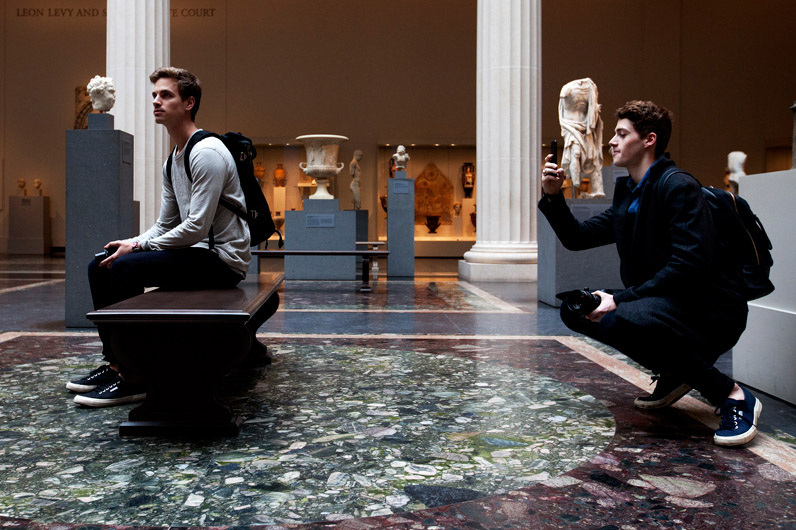 New Schoolers Take Over the #EmptyMet
While most people were heading to work or school Friday morning, a few New School students were making their way toward a destination that just an hour later would be overflowing with tourists.
Gathering one block away from the grand steps of the Metropolitan Museum of Art, they were met by Taylor Newby, social media manager for the renowned cultural institution. "Welcome to the #EmptyMet tour," he said, guiding the way inside.
Initiated by photographer Dave Krugman last summer, #EmptyMet tours give small groups early access to the museum's cavernous halls, with the instruction to post photos using the hashtag #EmptyMet and the handle @metmuseum. The idea of the tour is to promote the Met's robust and worldly collection, while also boosting social media clout for participants and the museum alike.
The five New School students—Kevin Wong, Jenya Uzhegova, Finn Harries, Helena Bajaj Larsen, and Bailey Baerwolf—were the first group of students to go on the coveted tour. Beginning in the Greek and Roman art gallery and ending in the American wing, they had free reign of the museum, taking turns posing and participating in each other's photo shoots.
"I wish we could stay here for three hours—like starting at 5:00 am to see the sunrise," said Uzhegova, who won the university's Instagram competition as part of the selection process. Newby, who overheard Uzhegova's comment, gave a nervous chuckle and said, "I'm not sure I would enjoy that as much."
Follow The New School's Instagram at @thenewschool.