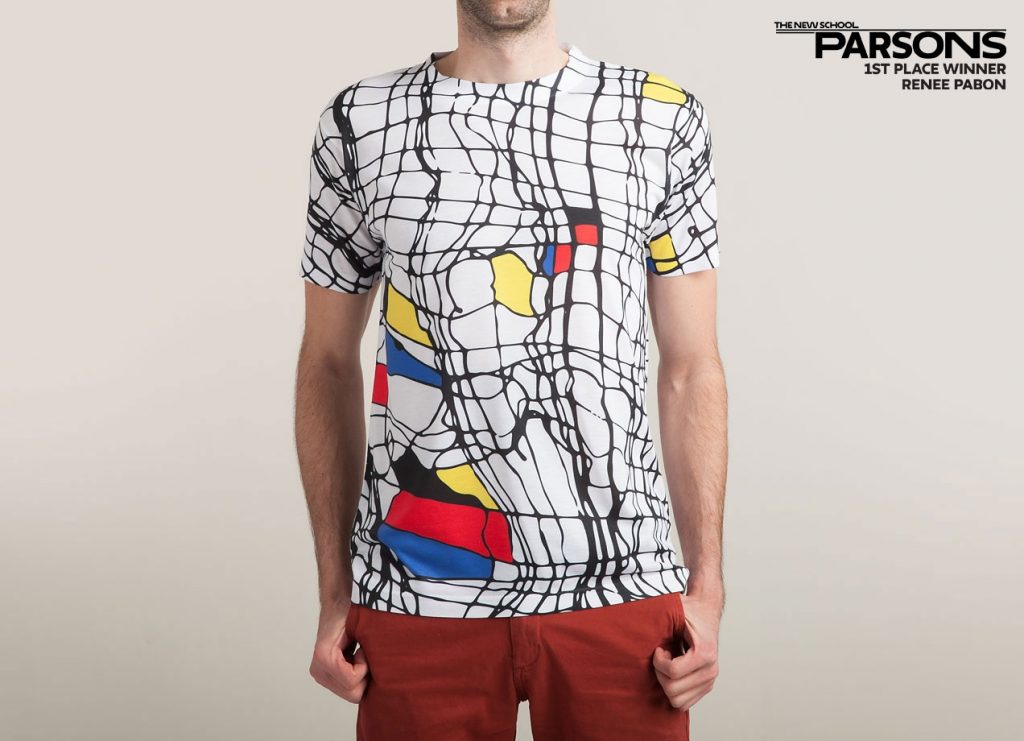 Parsons Tackles the Classic Tee with Threadless
A version of this post originally appeared on Threadless.
Project Runway may have made The New School's Parsons School of Design a household name, yet anyone in design has always been familiar with the institution's renown: Highly acclaimed and often regarded as one of the most prestigious fashion schools in the world, Parsons is home to seriously elite talent.
Curious what these superstar students had up their sleeves, Threadless teamed up with Parsons and challenged them to apply an entirely new fashionable spin to the classic tee. Only junior year students from the school's Visual Communication course were allowed to participate, while the community decided who had the chops to be the next great fashion phenom.
Behold, we share with you today the top three winners. Read on to meet the artists themselves and follow the links to see the winning designs.
Renee Pabon – Grand Prize
With her father in the United States Navy, Renee Pabon, a Fashion Design major, grew up all over the world – and always near the water. "Being next to the ocean my entire life brought me close to nature's vitality and gave me a passion for color," she says. "That love of color never really went away, and I've found that the best way I can express it is through clothing."
What inspired your winning design, "Drunk Mondrian"?
"I have always been drawn to abstract art. I understand that in order to be good at it, one must be highly sensitive to line, color, shape, and the arrangement of all of the above. I chose Mondrian because I find the primary colors he used in his famous paintings to be particularly pleasing to the eyes. I thought it would be fun to put a spin on his work in a way that also showed a sense of humor, trying to get into his psyche and twist it around a little bit – literally."
What do you hope to pursue and accomplish after graduation?
"I'd like to continue my pursuit of helping others through fashion. There are so many ways to do that! Ultimately I would like to open a business of my own that specializes in screen printing while focusing on showing underprivileged children that very skill, so that they may enter the world with something practical under their belt. But it also doesn't have to be that specific, at least not yet. If at the end of the day if I get to make cool stuff that makes people feel really good, in a way that is ethically responsible, I'd be happy with that, too."
---
Michael Jafine – 2nd Place
A rising senior majoring in Fashion Design, Michael Jafine is from Toronto, Canada and is specifically pursuing women's ready-to-wear luxe fashions. "Everything I am is a result of the creative freedom I've been given at Parsons," says Jafine. "I wouldn't trade that for anything."
What inspired your design, "THE WORST"?
"My design was inspired by the power of a simple print that combined text and visual imagery as one. One of my biggest influences for this shirt was a high fashion streetwear aesthetic of brands like Hood by Air and KTZ."
What was the experience like designing for a t-shirt vs. your typical projects?
"The experience designing the t-shirt compared to my other projects was much more enjoyable.  I was able to still think about the design's relationship with my major and background, but could also play with other elements in greater detail that I wouldn't have gotten the chance to do in other classes or for other projects."
---
Anmol Vaswani – 3rd Place
Vaswani is majoring in Fashion Design, but if she could, she'd major in every form of design. "I've always been passionate about design," says Vaswani. "Good design in any form – whether it's architecture, fashion, typography, etc." Born and raised in India, Vaswani moved to New York City at 18 to attend Parsons.
What inspired your design,"My Er'day Tee"?
"I listen to a lot of hip-hop and rap. I find that music is universal; everyone listens to some form of it, so I started there. While looking at trends amongst my peers here and those back home, I saw that certain words from songs were becoming slang in a funny manner. An example of this would be "YOLO", and the same song ("The Motto" by Drake) went "errday, errday", and it became a thing. You'd see it used on Twitter, on Instagram, Facebook, er'rwhere! That's how the process started."
Why was it important to you to choose a major that encourages creativity?
"The future of the world lies in creativity. Considering the speed at which we consume all that is available to us, we need people that can create intelligently – enter designers. It's extremely empowering to think that you could, with other like-minded people, change the world one day. This is why I was certain I had to study and pursue something creative."