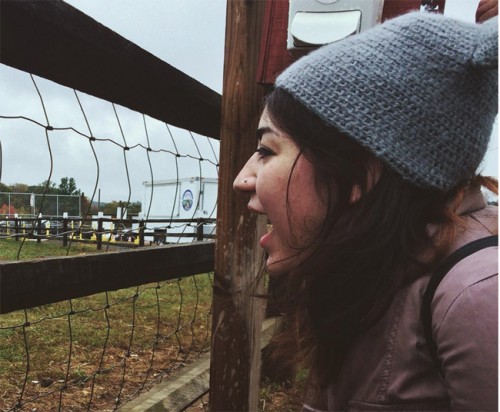 Student Sylvie Douglis Explores Passion for Storytelling at Salt Institute
This semester, Sylvie Douglis has traveled throughout Maine to interview village mayors, amateur drone photographers, controversial artists and members of a Byzantine micronation.
The experience is all part of the Eugene Lang College student's work at The Salt Institute for Documentary Studies, a prestigious program in Portland, Maine that focuses on radio documentary and new media journalism.
"It's a lot of work but incredibly fun," Sylvie says.
The Lang junior has a passion for storytelling. Last year, Douglis was awarded a fellowship to assist in a Civic Arts and Humanities course taught by Assistant Professor of Digital Humanities Julie Napolin, in which students produced their own radio documentaries (she worked as a volunteer tape editor for five months). Once the course ended, Michael Garofalo, StoryCorps's executive producer and a visiting professor, brought Douglis on board to edit tape at the Brooklyn-based oral history organization.
"I had the privilege of attending weekly production meetings and working with producers to craft short and compelling stories from archived tape," she says of her experience at StoryCorps. "I realized that it is a luxury to discuss stories in great depth, to focus on their details and to consider them in larger contexts."
Her interest in documentary led her to apply to the program at Salt, where she's been working ever since.
"My professors here are brilliant storytellers and terrific instructors," she said. "In our classes we challenge the definitions of documentary and grapple with narrative arcs and character development—all while telling as many stories as possible."
She added, "I look forward to collaborating with Salt alumni for many years to come."