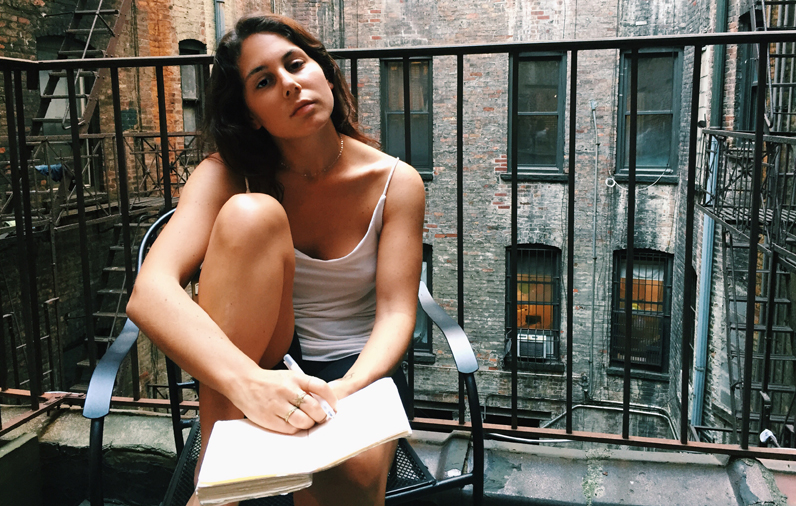 Creative, Resolute, and Fearless: The New School's Graduating Class
Stephanie Leone is the student speaker for this year's commencement ceremony at The New School. The event is expected to attract 6,000-plus people—university graduates, their family and friends, faculty members and administrators—to the Javits Center. She has every right to be nervous.
So do her classmates. They're all about to leave The New School's academic safe haven for a world of economic and political uncertainty.
But Leone isn't letting her nerves get the best of her. Her peers shouldn't, either. After all, says Leone, they're all graduating from The New School. At New York City's historic progressive university, they were taught to creatively innovate, tackle the world's most pressing problems, and challenge the status quo.
"To choose to be an artist, a writer, a poet, an activist—to use your degree in a way that isn't necessarily going to make a lot of money but that can truly change the world—it's a scary path to take," she says. "But it's a path that The New School has prepared us for.
She adds, "I want to encourage my peers to be resolute and brave in their decision to be socially engaged. That's a thing you can be in the world. That's a thing you should be."
Leone, a BA/BFA graduate of Eugene Lang College and Parsons School of Design, will offer words of inspiration during The New School's Commencement on Friday, May 22, at 11:00 a.m. (the event will be Livestreamed). She will share the stage with Gaby Pacheco, a nationally recognized leader of the U.S. immigrant rights movement who will serve as this year's commencement speaker. Also taking the stage will be this year's honorary degree recipients, including Jonathan F.P. Rose, founder and president of the Jonathan Rose Companies, which specializes in sustainable development, and Cassandra Wilson, a Grammy Award–winning jazz musician and producer.
When it comes to #NewSchoolSpirit, Leone is ahead of the pack. In addition to earning degrees at two schools within the university, she has served as an academic fellow for two years and the designer-in-residence of the New School Free Press, ran on the university's cross-country team, hosted information sessions for the Eugene Lang Admissions Office, and helped run Lang's social media accounts.
Asked why she wanted to be Commencement speaker, Leone says, "I've gotten to know this university pretty well."
"Having gone to two different schools here, working at the Welcome Center and doing social media for Lang, I've been able to get a sense of why so many of my peers love this university," she says. "I talk to a variety of people and they all say the same thing: It's a place where you get to truly exercise your creativity. It's a place where you don't get boxed in."
Having chosen to pursue a dual degree—a BA in Fiction Writing and Poetry from Lang and a BFA in Communication Design from Parsons—Leone has a special appreciation The New School's dedication to creative freedom. She has parlayed her cross-disciplinary experience into a multifaceted career, publishing written work in recent issues of 12th Street and Eleven and A Half and working as a design apprentice at Ugly Duckling Presse. Based in Brooklyn, the company's socially conscious mission is "closely aligned with that of The New School, focusing on works in translation and forgotten authors who are often overlooked," Leone says.
"Ugly Duckling's thinking is that the public needs to see this kind of work and that this kind of work should be given space and a voice," she adds.
As for why she loves The New School, Leone said, "How much time do you have?" The reason, she says, is "triplefold": the small classes that facilitate intense conversations and close connections between students and teachers, the faculty "who are willing to go above and beyond to give their students the best experience possible," and the university's immersion in New York City.
"I love the way that we are partially a campus and partially not," she said. "None of my classes have been limited to the space of the classroom. I've always been encouraged to look outward—to attend readings and art shows, and to engage with community."
The benefit of being in New York City, Leone says, is that "no one will be totally lost after they graduate." And that's not only because of the university's location in the Big Apple.
"Everyone here is extremely talented, extremely fearless," Leone says. "When you're in that kind of environment, you grow a lot. I'm excited for what's next."