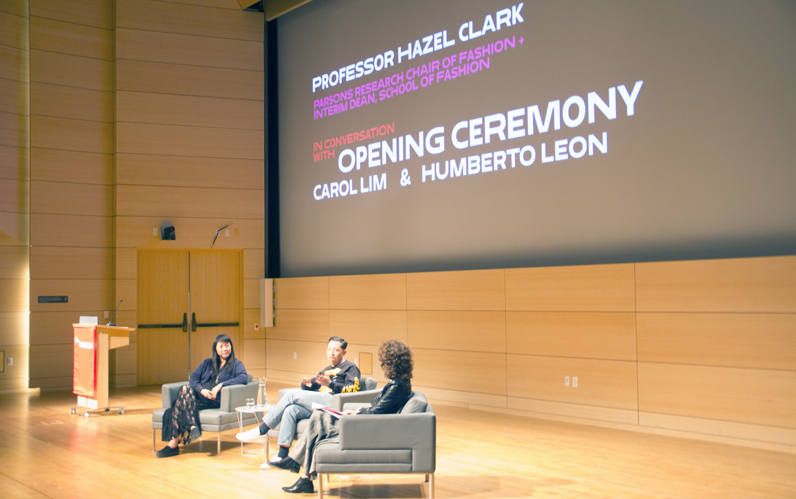 Opening Ceremony Founders Tell Their Story at The New School
Thirteen years ago, it might have been difficult to imagine Carol Lim and Humberto Leon opening a store that would, as New York Times reporter Eric Wilson put it, "crystallize a sense of fashion of the moment" for style-minded New Yorkers.
First off, Lim and Leon were working corporate jobs. Second, they had zero experience running their own business. Third, they weren't even New Yorkers. And finally, they opened their shop on a street that, as Leon put it, "was the exact opposite of a shopping area."
Lim admitted that it was "naive in many ways" to open a store at all. But it was that naiveté—coupled with confidence, savvy, and a willingness to take risks—that made the Opening Ceremony founders two of the fashion world's brightest stars.
"Our naiveté gave us the flexibility to do things in a way that felt right for us and was very organic," Lim told a packed house at The New School's University Center Thursday. "It's what helped us make our vision a reality."
Lim and Leon made their remarks during a conversation with Hazel Clark, professor of Design Studies and Fashion Studies, Research Chair of Fashion and Interim Dean of School of Fashion at Parsons School of Design, at an event that also marked the opening night of the fifth annual Parsons Festival. This year's festival is being held at The New School's Greenwich Village campus and at venues throughout New York City, including WantedDesign Brooklyn's 15,000-square-foot showroom at Industry City. The festival, which runs through May 22, features an array of exhibitions, presentations, installations, workshops, symposia, gallery openings, and performances that celebrate the next generation of artists and designers working in a range of disciplines.
In their informal and engaging hour-long conversation, Lim and Leon discussed the development of Opening Ceremony, from a concept hatched during a vacation to Hong Kong to the opening of their first store on Howard Street in New York City to the shop's expansion overseas and across various media.
Speaking on the inspiration for Opening Ceremony, Leon said it was an effort to marry his and Lim's passions: travel, art, and fashion. What began as a single store on a quiet street in downtown New York has grown to encompass several retail outlets in New York, Los Angeles and Tokyo, carrying a unique range of lines in addition to ready-to-wear, accessories and footwear collections. Opening Ceremony has also become known for its myriad of innovative collaborations, including those with style icon Chloë Sevigny and filmmaker Spike Jonze.
"We wanted to tell these stories and we opened up Opening Ceremony as this platform and this foundation for all these things that we love, everything that's in our heads," Leon said. "Through the last 12, 13 years, we've been able to do so many different things with it—whether it's about art, film, or, of course, fashion. For us, it's about culture. One thing that we've always tried to maintain is telling this cultural story."
Parsons Executive Dean Joel Towers praised Lim and Leon for their contributions to both the fashion world and Parsons.
"They're recognized as innovators of retail and design," he said. "They've also been—and I'm deeply grateful for this—supporters of Parsons over the years, hiring our students, our alumni, offering internships, and really staying connected to the school. We're so excited to have them."