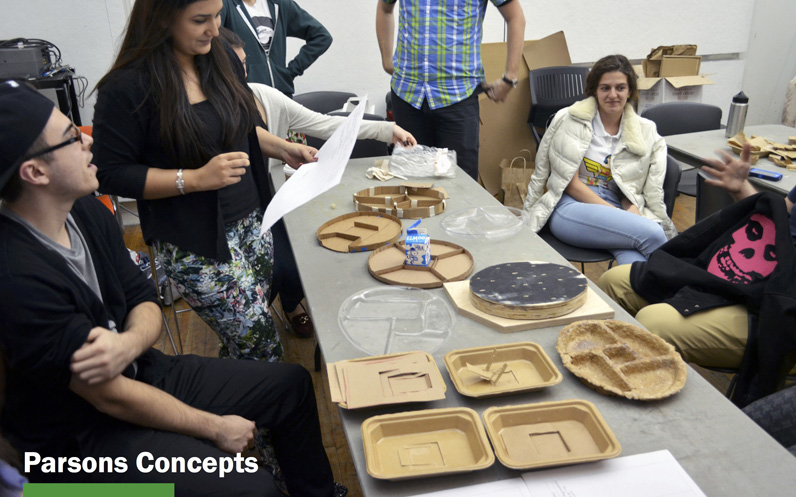 Parsons' Plate Design Makes School Cafeterias More Sustainable
Last year, students from Parsons School of Design launched a class project to re-design school lunch trays in New York City. Working with the nonprofit environmental organization Global Green USA, students sought to replace the trays, which for many years have been made from non-recoverable polystyrene foam, with an aesthetically pleasing, functional, recyclable and compostable alternative.
Now, the students are seeing the fruits of their contribution: The Urban School Food Alliance, an organization leading the charge for more sustainable practices in schools, announced that it will start rolling out compostable round plates at cafeterias in six of the largest school districts in the United States, including New York.
Led by Assistant Professor of Product and Industrial Design Daniel Michalik, students were part of the initial effort by New York City Department of Education to make the switch from polystyrene trays to compostable plates. In the classroom, students worked both individually and in groups to research the design constraints associated with the cafeteria trays. In addition, through their partnership with Global Green, students visited schools to see trays in use, toured manufacturing and recycling facilities, and made presentations to industry professionals.
"This class engaged students in a user-centric design approach to investigate the nature of the tray, with all its functional, behavioral and social implications," said Michalik, who teaches in the School of Constructed Environments. "We are excited to have been involved in the effort to switch to compostable plates, which will help to improve the health of children and the environment across the country."
The six districts utilizing the plates serve 2.5 million meals a day. By using these new environmentally friendly trays, the Urban Food Alliance estimates that 225 million polystyrene trays will be removed from landfills every year.
The goal is that these alternative trays will help to increase resource recovery from schools, have a positive impact on K-12 students by helping them to adopt environmentally friendly habits, and educate future designers by honing the skills needed to develop and create environmentally friendly products," said Matt de la Houssaye, Director of Global Green's Coalition for Resource Recovery. "We are thrilled to have partnered with Parsons on this important project which addresses a real-world issue."