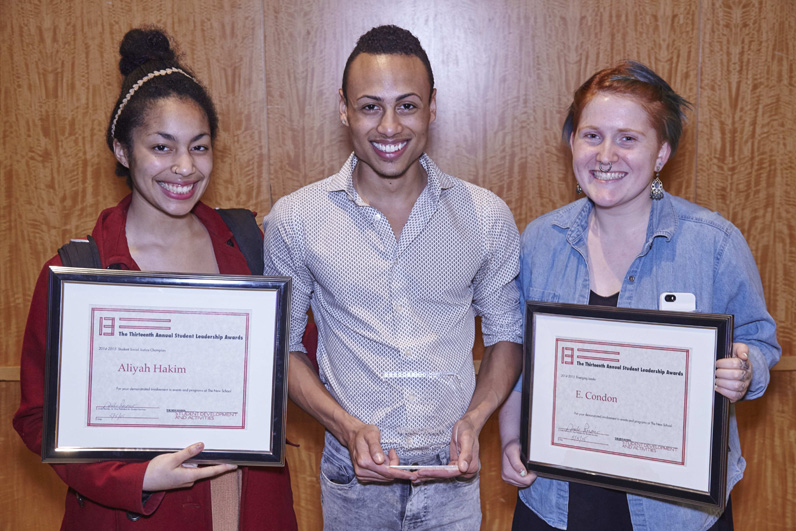 The 2015 Student Leadership Awards Honor Movers and Shakers on Campus
On Thursday, May 7, 2015, members of the New School community came together at the Theresa Lang Student and Community Center to celebrate excellence in student programming, leadership, and community-building on campus. Sponsored by Student Development and Activities, the 13th Annual Student Leadership Awards ceremony presented twelve awards to some of the best and brightest examples of leadership on campus.
Petra Jarrar and Alec Blunt, both Parsons students and Orientation Leaders, served as the evening's co-hosts. Linda Reimer, Senior Vice President for Student Services was also in attendance to present the Senior Vice President for Student Services Alma Mater awards to five graduating students.
Congratulations to the 2015 award recipients:
Outstanding Student Organization or Group

Community Service and Civic Engagement
Ariel Merkel for ReelAbilities Film Festival (NSSR)

Outstanding New Student Organization of the Year

Senior Vice President for Student Services Alma Mater Award
Jovan Bursac (Mannes)
Jasmine Cuffie (NSSR)
Emilia Giordano (NSPE)
Nathaniel Phillipps (NSPE)
Ashley Faye Thomas (NSPE)

Outstanding Advisor to a Student Organization
Judy Pryor-Ramirez (Students of the African Diaspora)

Student Social Justice Campus Champion

Outstanding Student Leader of the Year
Dafne Regenhardt (NSPE)
Storm Hurwitz (Lang)

Outstanding International Leadership at The New School
Tomas Uribe (NSPE)
Xue Shuai (Parsons)

Student Sustainability Campus Champion

Outstanding Student Program of the Year (Organization)
The Revolution Might be Funny: A Conversation on Race and Comedy (Asian Student Collective)

Outstanding Student Program of the Year (Individuals)
The Read (Claudine Brantley, Parsons; Joshua Gwynn, NSPE)

Emerging Leaders
Eli Condon (Parsons)
Rishabh Manocha (Parsons)
The New School is fortunate to have such passionate, engaged student leaders who add to the vibrancy in programming on campus. Student Development and Activities wishes to thank all those who attended and looks forward to many years of student leadership to come.