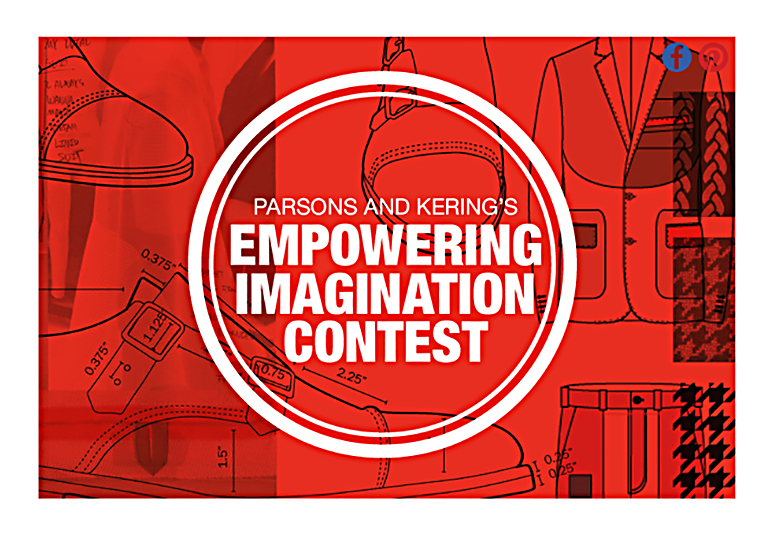 Top Fashion Students Featured in 'Empowering Imagination' Competition
UPDATE: Blair Moore and Lucy Jones have been named the winners of "Empowering Imagination 4.0" and will will take an immersive trip to the Kering Materials Innovation Lab and brand locations in Milan, Vicenza and Florence, Italy.
Two years ago, Lucy Jones was talking to her cousin, Jake, about the struggle he goes through putting on his own clothes. Jake has hemiplegia, a condition in which half of his body is paralyzed.
Responding to Jake's frustration, Jones wanted to help her cousin and others facing similar issues. A student in the Fashion Design (BFA) program at Parsons School of Design, she put her design skills to work to develop an "alternative system for designing"—a process by which an existing clothing line could be adapted to suit the needs of people with physical disabilities.
"I realized that we in the fashion industry need to create more accessible solutions in clothing," she said. "I thought if Jake could dress himself, he would be able to be more independent. Clothes have the power to do that."
In addition to helping Jake, Jones has made it her mission to raise awareness on the issue of designing for disabilities. She is furthering that goal, as well as her career, as one of the finalists in "Empowering Imagination 4.0," a competition in which 12 top May 2015 graduates of the Parsons BFA Fashion Design program are featuring their innovative fashion designs on Style.com through May 18. What's more, the work of 30-plus students, which includes the 12 finalists from "Empowering Imagination 4.0," is currently being featured in the interiors and windows of Saks Fifth Avenue.
Two winners of the competition will take an immersive trip to the Kering Materials Innovation Lab and brand locations in Milan, Vicenza and Florence, Italy.
"Empowering young talent is a core part of Kering's DNA," said Laurent Claquin, head of Kering Americas, which is presenting the competition with Parsons, Saks Fifth Avenue and Style.com. "Through this long-standing partnership with Parsons, we support the next generation of fashion designers by providing resources and a framework within which they can thrive."
Jones is certainly thriving. Last year, she was one of four students from Parsons selected to attend the U.N. World Summit on Innovation & Entrepreneurship. This year, she was awarded a New Challenge grant for her thesis project, "Disability and Beauty." She has also been recognized as one of eight finalists for Designer of the Year of Class 2015, to be announced at Parsons' annual Fashion Benefit on May 19.
Now, she's getting invaluable exposure in "a publication that I have looked at and idolized since I was a teen."
"To have my collection on this platform is remarkable," she said. "My hope is to bring awareness and encourage designers to think a little differently about other walks of society."
The students in "Empowering Imagination" will be critiqued by an illustrious panel of judges: Parsons alumnus Alexander Wang; athlete, actress and fashion model Aimee Mullins; fashion editor Giovanna Battaglia; Style.com's Nicole Phelps; Kering's Laurent Claquin; Saks Fifth Avenue's Colleen Sherin; and creative advisor Simon Collins. Parsons students were chosen to participate in the competition based on the quality and conceptual vision of their thesis collections and their ability to communicate their ideas. The jury will also ask the students to express their perspective of sustainability within the fashion industry.
"The School of Fashion is honored to once again participate in this highly regarded competition, and continue relationships with such estimable partners as Kering and Style.com," said Hazel Clark, Interim Dean at the School of Fashion at Parsons School of Design. "This is such a tremendous opportunity for our students, and a wonderful beginning to highlight what's to come in the future of fashion."
The following are the 12 finalists for Kering and Style.com's "Empowering Imagination 4.0." Through May 18, each finalist will have a spotlight posted on Style.com. See below for a schedule of the posts, and links:
May 14: Haoran Li

May 15: Michael Yip

May 16: Blair Moore

May 17: Xuan Zheng

May 18: Jooyoung Kim