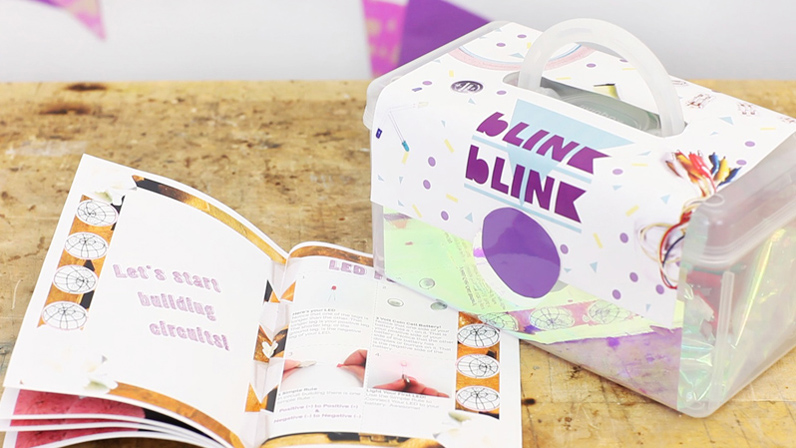 Getting Girls Creating: Closing Tech's Gender Gap
Silicon Valley is a male-dominated world, with men holding most of the jobs, the highest salaries, and, with some notable exceptions (Yahoo CEO Melissa Mayer, Facebook COO Sheryl Sandberg), the most important positions.
Many theories have been floated to explain the dearth of female representation in tech: stereotypes, gender bias, the climate of science and engineering departments in colleges and universities.
Industry leaders are employing a number of measures to address this issue, from recruitment initiatives to investments in education. Two New School students are taking a more innovative, grassroots approach: getting girls hooked on tech at a young age.
Design and Technology MFA graduates Nicole Messier and Joselyn McDonald are achieving this goal through their award-winning blink blink project. Both fun and educational, the "creative circuit kits" contain tools allowing users to engineer DIY arts, crafts, and fashion technology projects, from LED light-up scarves and leggings to pressure sensors for wearable fashion.
"We created blink blink to address the broadening gender gap in the tech and engineering fields," says McDonald, the project's chief technology officer and co-founder. "With input from middle and high school girls, we all decided that creative circuits would be one fun and playful way to allow girls to explore technology and engineering."
Blink blink was born of its creators' passion for technology and creativity. During their first year at Parsons School of Design, McDonald, a filmmaker turned technology designer, and Messier, an aerospace engineer, fell in love with wearable tech and creative circuits. Hoping to pass on their interest to young girls, they hosted blink blink workshops in middle and high schools and after-school programs, where students created sculptures embedded with circuits, paintings alight with LEDs, and fashion technology.
After organizing workshops regularly for a year, McDonald and Messier aimed to broaden their reach by designing the creative circuit kits. With the help of female students from across New York City, New Jersey, and New Orleans, they designed the kit and tutorials to ensure that the circuit materials (LEDs, batteries, conductive thread, conductive fabrics, copper tape), aesthetics (the kit comes in a portable plastic box) and language were inviting and accessible. In December 2014, they launched a first run of blink blink kits for the holidays. The kits flew off the shelves.
"There are endless project possibilities when it comes to creative circuit projects," Messier says. "Girls can storm up new ways to make everyday objects light up through playful interactions: pressure sensors, mood dials with potentiometers, and jackets that light up when you close the zipper. And that's only the beginning.
Blink blink has already garnered numerous awards. In March, McDonald and Messier were given the chance to showcase their project at SXSWedu Playground and, earlier this year, took home the Audience Choice Award at 4.0 Schools Pitch Night. In addition, they were named a Maker Faire Editor's Choice and Best In Class last year and received a 2014 New Challenge Grant.
Currently McDonald and Messier are raising funds to bring the kits to the next level through larger-scale production and manufacturing operations and development of more DIY projects specifically designed for girls.
"While we enjoy hand-packing love into our kits, the demand for our initial kit [dubbed the Possibilities Kit] is growing, as well as demand for other projects and kits to keep kids learning," Messier says. "With our sold-out launch in December 2014, we are ready to increase production and help meet the demand for these fun, inspirational kits and get girls creating!"
With their kits, McDonald and Messier could help narrow the gender gap in tech. Before long, Silicon Valley could be the domain of both sexes.
For more information about blink blink, visit bit.ly/kickstartblinkblink.