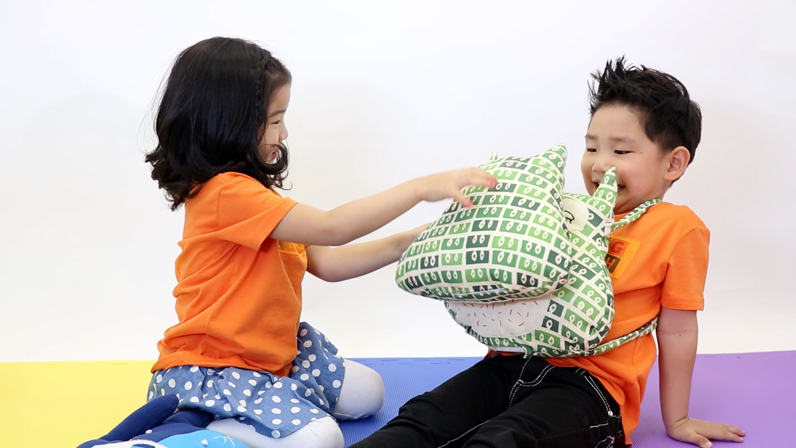 Helping the Visually Impaired, One Hug at a Time
Growing up in South Korea, Chloe Koo witnessed her uncle's struggles with a disability, The graphic and visual designer wanted to find some way to help.
"Seeing the challenges my uncle had to overcome really pushed me to create something emotionally rich and grounded in meaning," said Koo, who graduated in 2014 with an MFA in Design and Technology from Parsons School of Design. "Design gives people a chance to create their own rules, which is a better way to nurture communication and imagination."
To this end, Koo dedicated her graduate thesis project to designing for people without sight. That project, called HugMatch, is now a finalist in this year's Core77 Design Awards Community Choice Prize.
HugMatch is an interactive toy and accompanying game for visually impaired toddlers that stimulates the senses and skills that typically develop at their age—touch, sound, and social cues.
"I wanted to create a toy that would focus on the things visually-impaired children usually lack, such as the understanding of an object, communications skills, and social interaction with peers," said Koo.
Constructed of different fabrics and evoking different sounds, each toy (which comes in two different-sized dolls) is meant to provide an interactive environment for the children to learn how to better understand and empathize with others.
Koo devised a game in which children are given a "mother" doll equipped with sensors. They must then find the matching "baby" dolls in the room by identifying similar fabrics and textures. The mother doll signals a match once the child gives the toy a hug, which causes the doll to say either "You did it!" or "Try on more time," with an accompanied vibration.
HugMatch was the culmination of months of research at different schools and institutions for the blind, including St. Joseph's School for the Blind and Lighthouse International. "After interviewing teachers about their visually impaired students, I found that most children who have lost their sight also suffer from other disabilities that maybe delay development," said Koo. "HugMatch encourages these children to make connections and build relationships with one another."
To learn more about the project, as well as vote for Koo's design, visit http://designawards.core77.com/Strategy-Research/30491.