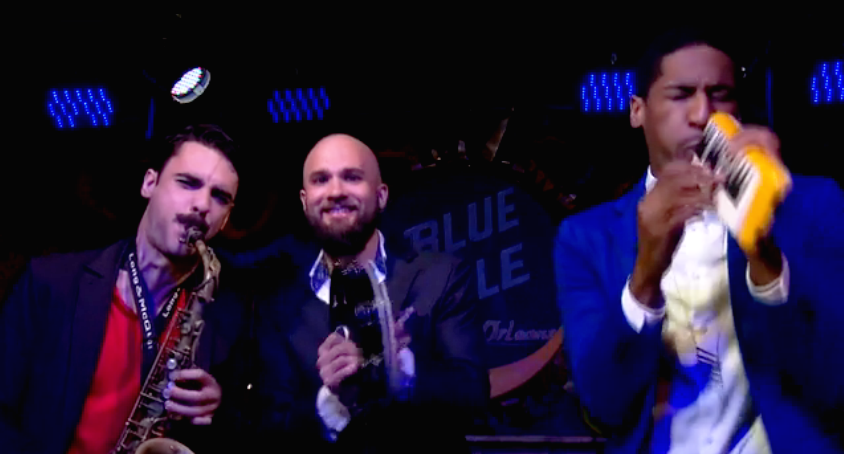 Jazz Alum Eddie Barbash to Join 'Colbert' House Band
In the lead-up to his hosting debut on "The Late Show," Stephen Colbert has been dropping teaser videos to get fans hyped for his arrival on network late-night TV.
First, the Comedy Central star posted a video in which he shaved off his famous "Colbeard" ("Because Tom Selleck's mustache has a non-compete clause," he quipped). Then, just last week, he posted a video introducing his new house band led by Jon Baptiste.
In the video, the new bandleader is backed by a mustachioed saxaphone player who is none other than New School for Jazz alum Eddie Barbash. The 2012 graduate will be on stage five nights a week as a member of Colbert's band—a once-in-a-lifetime opportunity for the up-and-coming musician.
"I can't wait for the show to start," said Barbash, who has been playing on and off with Baptiste for seven years. "It's intense because every time I play something, it's going to be heard by millions of people. I'm a little nervous, but I'll rise to the occasion."
If the prospect of being on national television wasn't exciting enough, "The Late Show" also marks Barbash's "first real job."
"I'll be playing with Jon on 'The Late Show' five nights a week," said Barbash, who, up until now, has only performed freelance gigs. "It'll be the same thing every day. I'll show up, have a boss, and be on payroll. It's really crazy."
Baptiste and his band first came to Colbert's attention last summer when they performed on "The Colbert Report."
You can catch Barbash on the opening night of "The Late Show with Stephen Colbert" on September 8.