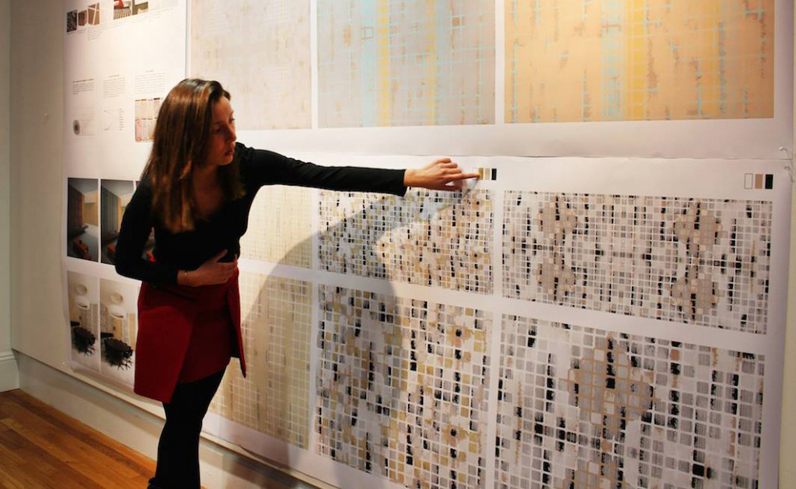 Parsons' Julia Grunberg Wins Carnegie TPO Design Competition
A Parsons student is helping to make wall coverings more sustainable—and more beautiful.
Julia Grunberg, MFA Interior Design Student at Parsons School of Design, took home first place in Carnegie Fabric's Thermo Plastic Olefin Design Competition during the spring semester.
Grunberg was chosen from more than 60 students from Parsons, Pratt Institute, School of Visual Arts, and Fashion Institute of Technology, who were asked to design patterns using Carnegie's TPO environmental wall covering. The winner was chosen by a panel of judges from Interior Design Magazine, Gensler, Perkins & Will, and Ethelind Cobelin.
As part of the competition, students were guided through a six-week development process, which included instruction on artwork, repeats and techniques of dimension and pattern. Students also learned the benefits of the material TPO, such as lower energy use during manufacture, extremely low volatile organic compounds and zero chlorine, formaldehyde, heavy metals and ozone depleting chemicals.
"Combining aesthetic design with healthy sustainable materials is a core principal of our graduate program," said Jonsara Ruth, director of the MFA Interior Design at Parsons' School of Constructed Environments. "Julia's dedication to exploring design possibilities with an understanding of material qualities is exemplary."
Mary Holt, executive vice president of Creative for Carnegie, encouraged student exploration of sustainable wall covering materials and development of unique pattern, scale and texture.
"We feel it is critical for designers to understand the environmental concerns surrounding vinyl and to know there are more environmentally friendly options," she said. "This process has been exciting, humbling and inspiring—the vision of the future of design is holistic and optimistic."
Holt launched the competition in January 2015 with informational lectures on the dangers of polyvinyl chloride and environmentally preferable options such as Xorel and TPO.