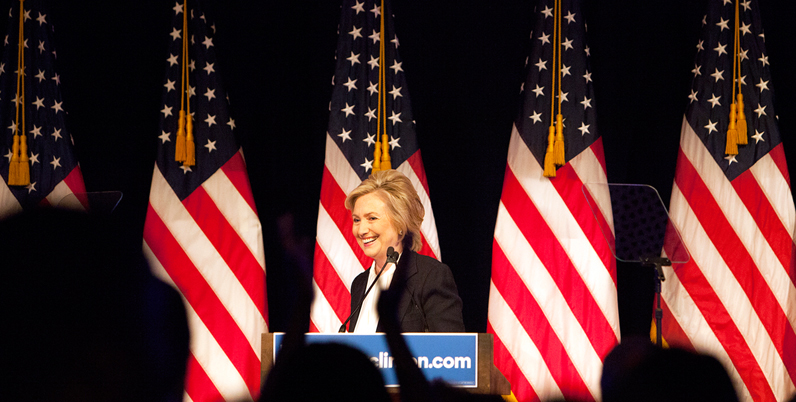 Hillary Clinton Lays Out Vision for 'Growth and Fairness Economy' at The New School
Since declaring her candidacy for the 2016 Presidential Election, Hillary Clinton has been on a breakneck schedule, laying out her plan for raising middle-class incomes and expanding women's rights at rallies and fundraisers across the country.
But she saved the most important policy speech of her campaign for The New School.
Taking the stage to a standing ovation inside the progressive New York City university's historic Auditorium at 66 West 12th Street, the former U.S. senator from New York, secretary of state, and first lady laid out her vision for a "growth and fairness economy" — one in which economic opportunity would be expanded to millions of middle- and working-class Americans.
"We must raise incomes for hard-working Americans so they can afford a middle-class life," said Clinton, who was greeted by a standing ovation from the crowd of New School community members and New York City residents. "That will be my mission from the first day I'm president to the last."
Clinton was introduced by New School President David Van Zandt, who reflected on the Auditorium and its "rich tradition of bringing people together to exchange views and ideas."
"The New School doesn't endorse any candidate," he said. "But we do welcome opportunities to hear proposals and insights from distinguished political leaders."
In her sweeping, hour-long speech, Clinton presented a suite of policy proposals designed to "lift up" everyday Americans: an increase in the minimum wage, access to affordable health care, job training, and guaranteed paid sick and family leave. She called for "breaking down barriers" for women, especially women of color, to entering the workforce.
"We can't afford to leave talent on the sidelines," she said. "When we leave people out or write them off, we not only shortchange them and their dreams, we shortchange our country and our future."
Clinton decried the "roadblocks to prosperity" facing millions of working Americans. Setting her sights on Wall Street, the Democratic presidential frontrunner promised to rein in the "excessive risks" of big banks while making stock markets "work for everyday investors." She also drew attention to financial institutions that, despite facing criminal charges, "get off with limited consequences."
"This is wrong, and on my watch it will change," she said.
Clinton also took aim at her Republican primary opponents and their embrace of "trickle-down economics." Criticizing the approach, she argued that it "explodes the national debt, concentrates wealth in the hands of a few, and does practically nothing to help hard-working Americans."
"Twice now in the past 20 years, a Democratic president has had to come in and clean up the mess left behind" by Republican administrations, Clinton said, drawing laughter and applause.
However, in spite of her critiques, Clinton struck an optimistic tone. She encouraged Americans from across the political spectrum to move past the "poisonous partisan gridlock" and "focus on the long-term needs of our country." In Clinton's eyes, that need is abundantly clear: creating economic opportunity for all Americans.
Said Clinton, "I want every child in our country, not just the granddaughter of a former senator and secretary of state, to live up to their God-given potential."