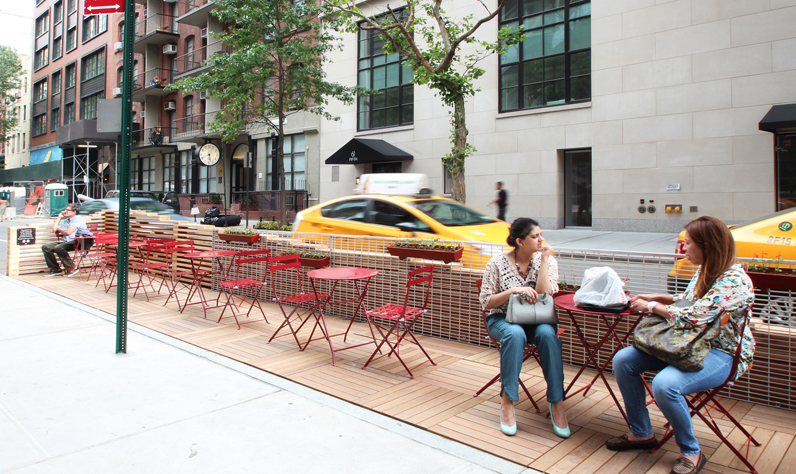 Parsons-Designed Pop-Up Site Invites Public To Take a Seat
Most passers-by on the corner of 13th Street and 5th Avenue saw a rusty old car blanketed in neon orange tickets.
Students at Parsons School of Design saw a design project in the making — a project that had the potential to transform the landscape of the Greenwich Village neighborhood.
After having the car towed away, students got to work remaking the 240 square foot parking spot into a pop-up space for the public to "rest, to read, and communicate," according to Mark Rakhmanov, one of the Parsons students behind the project.
The creation of ten students from Parsons' Architectural Design, Interior Design and Product Design programs, Street Seats comprises a sleek wooden platform adorned with seats and tables; sustainably harvested Ipe wood was used for the tiles and lumber and aluminum for the edge guardrails.
"Seeing our design come to fruition was an incredible experience," Rakhmanov saud. "We worked on it from the initial idea, to the drawing board, to the models, to the completed space. It was also entirely built by hand, working within Parsons' very own facilities. This humble sense of ownership of the design truly makes us proud of its existence."
The project is one of the sites of Street Seats, a program of the Department of Transportation that enables the creation of seasonal public open spaces at locations where sidewalk seating is not normally available.
"Before this was a parking spot. Now, it's a public space," said Nick Brinen, assistant professor of Interior Design and the faculty member leading the project. "We provided something that slows down traffic—a place where people can have impromptu meetings and conversations, lunch or coffee, or simply to rest and relax."