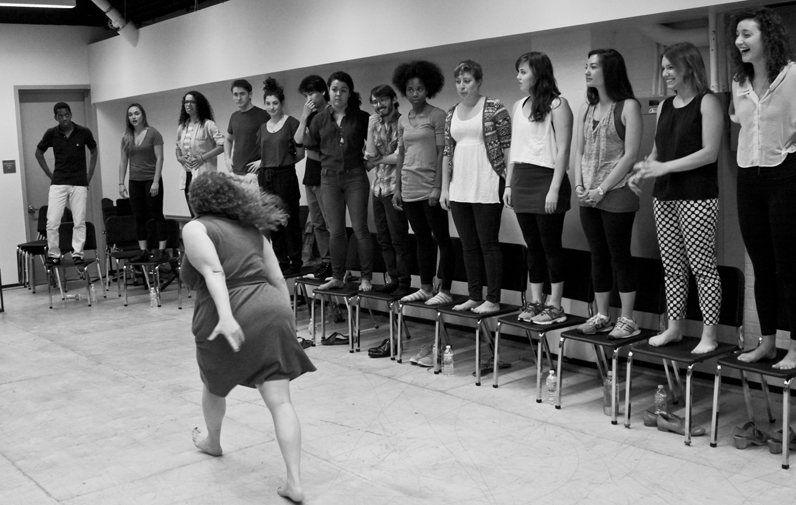 24 Hour Plays Races Against The Clock
On Sunday, six writers will hunker down in the third floor of The School of Drama's theater at 151 Bank St. to devise and write a script for a play. The next morning, as the writers are gulping down their fifth or sixth cup of coffee, a director will show up at the building; after reading the script and meeting with the writers, the director, along with a team of actors, will begin rehearsing the script. By 8:00 p.m., a mere 24 hours after the writers first put pen to paper, an original play will be performed before a live audience.
"It's a rigorous experience, a completely authentic task," Mark Armstrong, the executive director of The 24 Hour Company, said. "The participants learn a lot, but this is certainly not a class."
Presented by The 24 Hour Company and the School of Drama, The 24 Hour Plays: Nationals brings together some of theater's most promising young talent—six writers, six directors, six producers, and 24 actors—to write, rehearse and perform an original production in the span of a day. The performance will take place at 151 Bank St. on Monday, Aug. 10 at 8 p.m. For tickets, email info@24hourplays.com.
The event, which begins on Friday, includes two days of intensive workshops, team-building exercises and panel discussions with artists including Kristoffer Diaz, Austin Pendleton, Leigh Silverman, Celia Keenan-Bolger, Joel Marsh Garland, Jonathan Silverstein and Tam Mutu, among others.
Participants—young artists from around the country, including MFA Playwriting student Korde Arrington Tuttle ('17)—benefit from both a rigorous learning experience and initiation into a "strong peer network of artists that will sustain them throughout their career in theater," Armstrong said.
Tuttle is both "humbled and ecstatic" to participate in the program.
"Word on the street is that I should prepare to be exhausted, transformed, and dazzled by the next several days," he said. "If that proves to be true, then great! However, my only desire is to crawl into bed Monday night feeling even the tiniest ache of emotional and artistic growth."
Pippin Parker, Dean of the School of Drama, celebrated the opportunity to host 24 Plays at The New School.
"The New School for Drama and The 24 Hour Company share an abiding belief in the power of intelligent collaboration to develop transformative new voices for the theater, whether they be playwrights, actors, directors or producers," he said. "It's why we're excited and proud to partner again this summer for The Nationals."