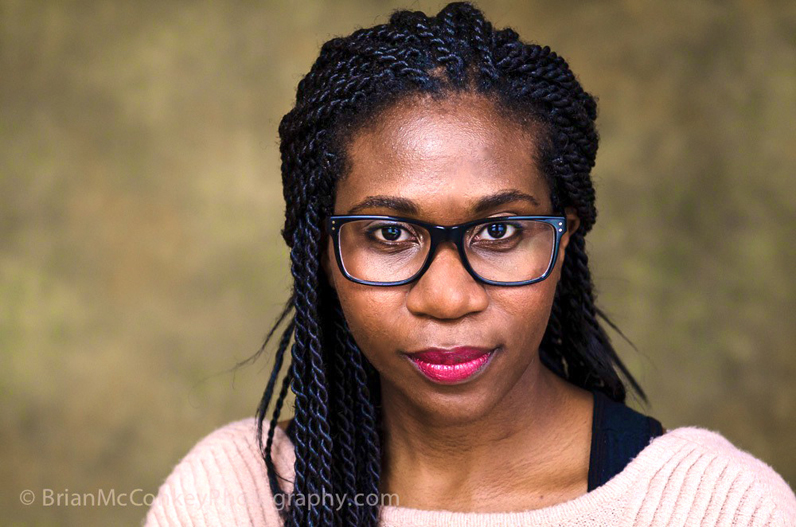 Playwriting Grads Find Their Voices, Then Success
For her first assignment in the MFA Playwriting program at the School of Drama, Janine Nabers ('08) was told to imagine a conversation her parents might have had on their first date.
She wrote about their first chance meeting in Pennsylvania and the cross-continent romance that unfolded when her dad, a member of the U.S. military, was ordered overseas. She also told of the letters they sent back and forth before her dad finally popped the big question.
"Only you can write about your parents' first date; only you can write about all those details," Nabers says. "It can't be something generic. It can only come from you."
The exercise speaks to the pedagogical approach at the core of the School of Drama's MFA Playwriting program. Centered on a teaching technique called the discovery process, instructors draw out and nurture each student's unique voice—an authentic expression of his or her individual personality, perspective, and experiences—through several systems of training.
"The plays we pushed out as students really matched our voices and personalities," Nabers said. "It was all about trying to pull our voices out of us."
Graduates of the MFA Playwriting program are the most compelling evidence of its success: The program has become an incubator for a gifted class of writers, including Nabers, Matthew Paul Olmos '04, Bekah Brunstetter '00, Nick Gandiello '11, Dan Kitrosser '14, and Sylvia Khoury '15. Each week brings news of more alumni accomplishments, and that doesn't appear likely to slow down anytime soon.
Pippin Parker, the dean of The School of Drama, attributes the effectiveness of the program to a holistic approach that "requires rigorous work in story, structure, imagination, and collaboration, with deep exploration of each over the course of the three years."
"The combination of these skills is equally important to film, television, and any other dramatic narrative," he added. "We're particularly proud to see our alumni supporting their artistic aspirations by working fluidly across multiple genres and media."
Take Nabers, who has written for both the stage and screen. Her credits include Serial Black Face, for which she won the 2014 Yale Drama Series competition, as well as Annie Bosh Is Missing, Welcome to Jesus, and A Swell in the Ground. She also writes for the Bravo series Girlfriends' Guide to Divorce.
But it is in her theatrical work that Nabers truly shines. At once personal and universal, many of her plays speak to both the writer's life and broader historical narratives around the black American experience. In When the Levee Broke, Nabers focused on the Great Mississippi Flood of 1927, the most destructive river flood in the history of the United States. Though Nabers wasn't alive to witness the disaster, she observed countless similarities between that one and another catastrophe she and her family endured: Hurricane Katrina.
"I wanted to explore something that was tied to my personal history," said Nabers, who grew up in Texas. "Katrina was a really horrific event for me and my family. Because I was still trying to make sense of what happened, I looked to the past for answers, and I learned about the Great Mississippi Flood. The parallels between 1927 and 2005 were pretty startling."
Nabers credits the faculty, including Parker and Christopher Shinn, an assistant professor of playwriting, for creating an environment where collaboration and free expression were always encouraged.
"I think The New School has a radical faith that the individuality of the writer is the most precious thing about him or her," Shinn said. "And I think, despite every teacher having a different emphasis, we all agree on that basic idea. We are there to draw writers out, help them discover what it is about them that is most them, most unique. Everything we teach is in support of that."
As part of the learning process, the playwright faces the artistic and pragmatic challenges of writing and rewriting, of working with actors and directors, and the critical process of guiding a play from artistic impulse to exploratory and clarifying drafts and through to rehearsals and production. As the writer's play manifests, so too does his or her unique voice.
"I feel like I really grew up at the School of Drama," Nabers said. "It's a place where you become your authentic self, where you become you."
For more information about MFA Playwriting, visit www.newschool.edu/drama/mfa.