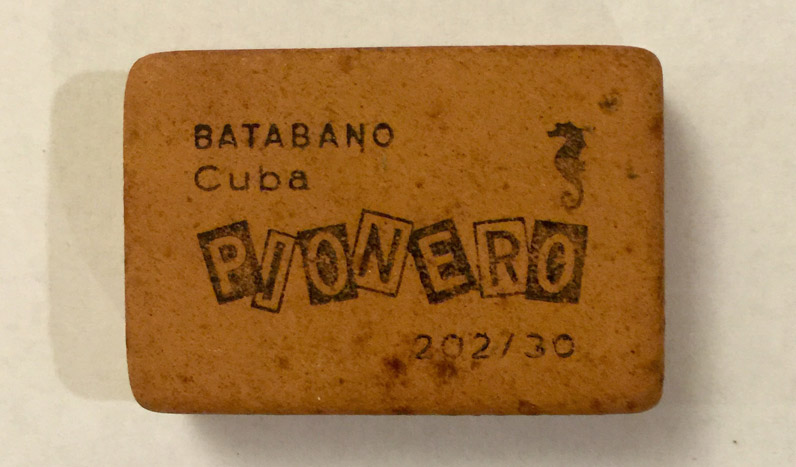 A New School Student Preserves The Material Legacy of Socialist Cuba
Maria A. Cabrera Arús, a PhD candidate in Sociology at The New School for Social Research, has never been much of a collector.
Things like "rusty artifacts, diplomas, certificates, or table games" from her childhood, preserved for decades by her Cuban family, were more likely to find their way into the garbage than into a storage space in the U.S.
Her grandparents, on the other hand, "kept almost everything." Like most Cubans, they filled every available square inch of their house in Havana with objects that they could use in the midst of the prevailing scarcity.
"I did not share their hoarding instincts," Cabrera Arús says, adding that, as a high school student, "I encouraged my grandparents to get rid of many things."
Now, she's ignoring her own advice. Ever since Cabrera Arús immersed herself in her dissertation—a project exploring Cuba's rapidly disappearing socialist material culture—the tendency to throw things out or give them away has been replaced by an urge to collect. What she once considered trash is now sacred treasure.
"My grandparents always reminded me that whenever I needed something—no matter how strange—I always found it at their house," says Cabrera Arús, who has utilized her grandparents' possessions for several different projects. "It turns out they were right."
Cabrera Arús is the founder and author of Cuba Material, an archive of material culture from Cold War Cuba, as well as the principal organizer and co-curator of Pioneros: Building Cuba's Socialist Childhood, an exhibition exploring the material world of childhood in socialist Cuba during 1960s, 70s and 80s.
The exhibition, which is presented by The New School's Sheila C. Johnson Design Center, opens on Thursday, Sept. 17, 6-8 p.m. It features more than 200 Soviet-era objects—toys, clothing, books, appliances, diplomas, certificates and schoolroom paraphernalia—culled primarily from Cabrera Arús' grandparent's collection.
Cabrera Arús' dissertation, website and exhibition are rooted in a desire to preserve the material culture of socialist Cuba—a reflection of life in the island country during the Cold War era.
"In the future, nobody will know how Cubans lived during that period, a time of great scarcity," says Cabrera Arús, who used funds from The New School's New Challenge award for student social innovation to help fund the exhibition. "It's important to keep a record of all this materiality for future generations, researchers, movie makers and writers."
It's a bold undertaking, one that wouldn't be possible without her hard work, research and her grandparents' collecting instincts.
"These 'souvenirs' of the past document not only state practices but individual lives—they point at the role that individuals played in the construction of Cuba's revolutionary utopia," she says. "Pioneros is a tribute to all of them. It is also a way to honor my grandparents, the foremost hoarders in my family."