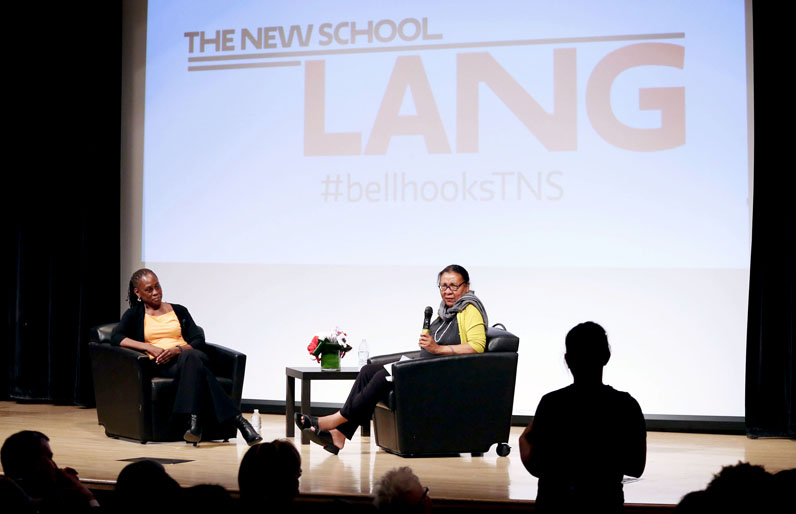 WWBHR? (What Would bell hooks Read?)
Over the course of her three-year residency at The New School's Eugene Lang College, feminist author and scholar bell hooks has fundamentally challenged the cultural norms and ideas that structure our society.
Who can forget the time she called Beyoncé a terrorist? Or, the time she pointedly asked Laverne Cox if she was perpetuating gender stereotypes? Or, the occasion when, in a discussion with Gloria Steinem, she critiqued second wave feminism, a movement she has come to represent?
hooks' public lectures at The New School (15 and counting) have been an enlightening—and at times provocative—educational experience, one that continues October 5-9 through conversations with artist Theaster Gates, political activist Kevin Powell, and New York Times columnist Charles Blow, among other guests. It will be hooks' fourth and final visit to The New School as part of her scholar-in-residence-program with Lang College.
hooks' articles, works, and theories are already required reading for many Eugene Lang College students. But, to prepare them for her last residency, we asked the scholar herself what books she recommends to young and old learners alike to prepare them to critically think about the world.
The Half Has Never Been Told by Edward E. Baptist
Unhooked: How to Quit Anything by Susan Shapiro
Celebration of Discipline by Richard Foster
The Mermaid and the Minotaur by Dorthy Dinnerstein
The Reinvention of Work by Matthew Fox
Dancing in the Flames by Marion Woodman
Everyday Sacred by Sue Bender
Ethics for a New Millennium by Dalai Lama
Emotional Longevity by Norman Anderson
Body of the World by Eve Ensler