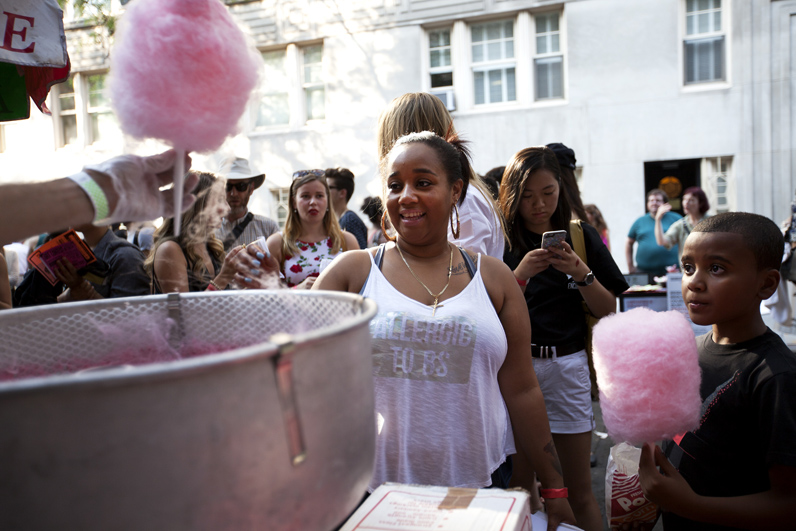 Block Party Welcomes New School Community Back To Campus
Blair Morgan-Reeves (Integrated Design/Journalism + Design '15) sat at a table, arranging candy, flyers and sign-up sheets as students swarmed the corridor on 12th Street between Fifth and Sixth Avenues on Thursday.
She was hoping to recruit students to help with the annual benefit for Sisters on The Runway, an organization that raises awareness on dating abuse and domestic violence in high schools and universities.
From her perch, Morgan-Reeves saw a runway of potential models, designers and volunteers.
"It doesn't matter if you're a freshman or a grad student in your second year, this is the one event everyone comes to," said Morgan-Reeves, president of Sisters on the Runway. "And you might come for the food and candy, but you stay for the community."
Morgan-Reeves was one of the many students, staff and faculty who thronged 12th Street for The New School's 19th Annual Welcome Block Party, an opportunity for the university community to learn more about schools resources and student organizations while enjoying a smorgasbord of free food and giveaways from local businesses, as well as a live performance by students from the School of Jazz.
Sunaina Rao (Nonprofit Management '15) was one of the first people to arrive at the Block Party. After she was finished having her caricature portrait painted, Rao planned on meeting up with friends and visiting the tables manned by the myriad student organizations on campus.
"You might know about everything that's going on at your own school," says Rao, a student at the Milano School Of International Affairs, Management, And Urban Policy, "but when you come to the Block Party, you can find out everything that's going on at the entire university. It's great to see everyone together—it speaks to the diversity of the campus."
Savannah Levin (Strategic Design and Management '19), Flora Ng (Strategic Design and Management '19) and Katie Bartholow ('19) paid a visit to the Public Programs table, where they learned about the hundreds of events taking place at The New School.
"I can't believe all the things there are to do on campus," Levin said. "There's so much to find out about."
Added Ng, "It seems impossible to get bored."
By 5 p.m., The New School community was out in full force, gobbling down cotton candy and cookies, signing mailing lists for student organizations and gearing up for another semester where scholars, artists, and designers come to challenge convention and, on occasion, party it up.