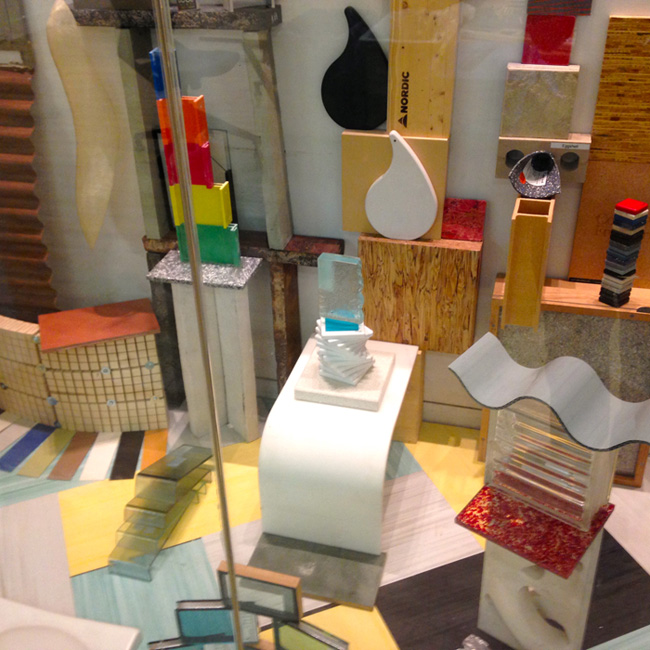 Healthy Materials Lab Celebrates Launch of New 'Materials Library'
The Healthy Materials Lab (HML)—an initiative funded by The JPB Foundation aimed at optimizing the health and transparency of building materials—hit the ground running when it was launched earlier this year.
In just three short months, members of the Parsons-led initiative have helped design a new Minneapolis apartment complex built with high-tech products and materials; created public service announcements to communicate the dangers lurking in everyday products; and worked with local affordable housing developer Monadnock on ways to rethink the company's building materials.
Now, the HML is taking another step in its forward-thinking mission with the creation of Donghia healthier Materials Library at 25 E 13th Street. The opening of the library, which coincides with the official launch of the HML, will be celebrated with a reception on Monday, Sept. 28 at 6:30 p.m. To RSVP, visit the Eventbrite page.
Headed by Parsons faculty member Alison Mears, the goal of the HML is to expedite the use of healthier alternatives, increase manufacturer disclosure of the ingredients of materials and advocate for transparency throughout the industry. The library, meanwhile, was created to showcase the healthiest materials currently available for use by designers in a range of fields.
"By working together with a range of industries we will transform current practice and create a better built environment," Mears says. "This change has the potential to transform the lives of all people who are impacted within the manufacturing supply chain."
The inaugural exhibition of the new library features products installed at The Rose, a 90-unit affordable apartment complex in Minneapolis. This summer, the HML partnered with Aeon, a nonprofit group, and architect Paul Mellblom of Meyer, Scherer & Rockcastle, on design ideas for the building. The plan called for the use of materials "that rarely make it into low-income housing because of cost or the fact that developers aren't aware of them," according to an article published by the Minneapolis Star.
"This is a pioneering case study that will help us understand if this is replicable," Mears told the newspaper. "Our goal is to transform the affordable housing industry."