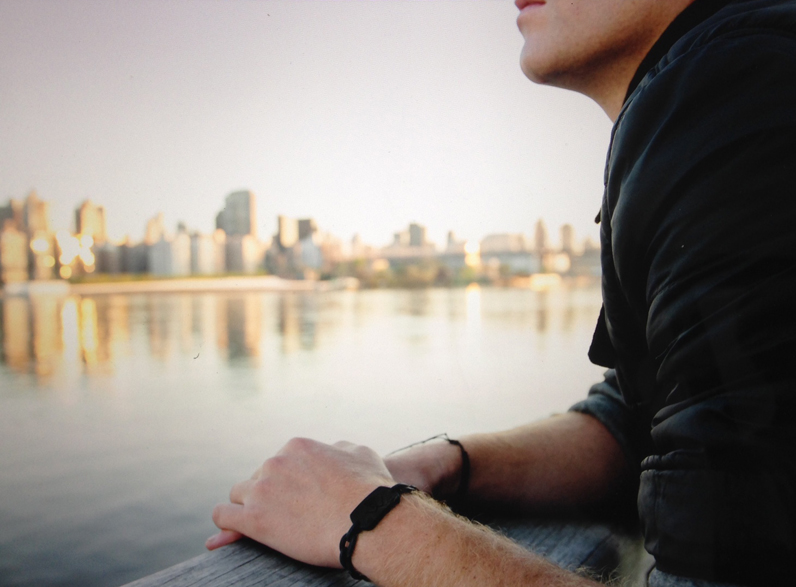 Lang Grad Makes Purchases More Convenient—and Meaningful
As consumers, we engage in what Ian Gardiner calls "everyday, routine purchases": a morning snack before work, a bottle of water on the way to the gym, a taxi ride home after a night out.
"These kinds of purchases become second nature—you don't even think twice about making them," Gardiner says. "But what if you could introduce a deeper sense of fulfillment and greater purpose to these seemingly insignificant transactions?"

And what if you could reach that goal by using the latest in contactless payment systems—a technology expected to become the standard in the retail industry in the coming years—and fashionable wristwear created by students at one of the world's top art and design schools?
With the help of his brother, Ari, and students and faculty members at The New School, Gardiner (Lang '14) has done just that. His invention, PureWrist, is a wristband that allows users to make payments at compatible vendors while giving back to charities "dedicated to making positive change in our world," Gardiner says.
While the market is currently filled with contactless payment options (Apple Pay, Google Wallet, PayPal, Square, and Venmo, to name a few), PureWrist is unique in that it is modeled around a philanthropic aim.
"I was brought up believing in the importance of giving back; my family and I are firm believers in karma," says Gardiner. He says he was also shaped by his experience at The New School, where he was "taught to think about others before myself, and about how to make an impact on my community."
So how does PureWrist work? The wristband, which is made of a light, smooth finished silicone, contains a near-field communication device that syncs up to a special debit card called the Gratitude card. Consumers tap the bracelet at compatible vendors to make purchases. PureWrist gets a cut of the sale, with 20 percent going to a charity (currently all donations go to the Leukemia and Lymphoma Society, but users will eventually be able to choose the organization that will benefit from their purchases).
The payment system is a boon to both charities and consumers: Charities enjoy a continuous stream of revenue, while consumers enjoy a convenient way to pay that also cuts down on the risk of credit card fraud (criminals find it much easier to gain access to the magnetic strip found on credit cards than to tap into personal information from contactless payment devices). They can also feel good knowing that through everyday purchases, they're helping to make a positive impact in the world.
While PureWrist is the brainchild of the Gardiner brothers (Ian is in charge of marketing and development, while Ari deals with the technology side), the device itself is the product of collaboration. The PureWrist team includes Parsons School of Design students Kate Graff-Radford, who designed the bracelets; Jon Nierder and Abigail Muir, the product's graphic designers; and Ryan Jay, the team's photographer. Mark Statman, an associate professor of writing and a faculty advisor at Eugene Lang College, "offered a lot of support and was a big mentor for me," Gardiner says.
"This wouldn't have come together if not for the friendships and connections I made at The New School," adds Gardiner, who recently reached his $10,000 funding goal on Indiegogo. The PureWrist devices are scheduled to be delivered in September.
The inspiration for the project came in part from Gardiner's father, a three-time leukemia survivor who taught his son about the importance of giving back.
"My dad always had a saying, 'Life is like a cruise ship. There's going to be rough and calm seas, but when you experience the rough seas, that's when you need a lifeboat. If you don't have lifeboats, you're in trouble,'" Gardiner says. "In difficult times, people need help."
Through PureWrist, people can help others every time they make a purchase.