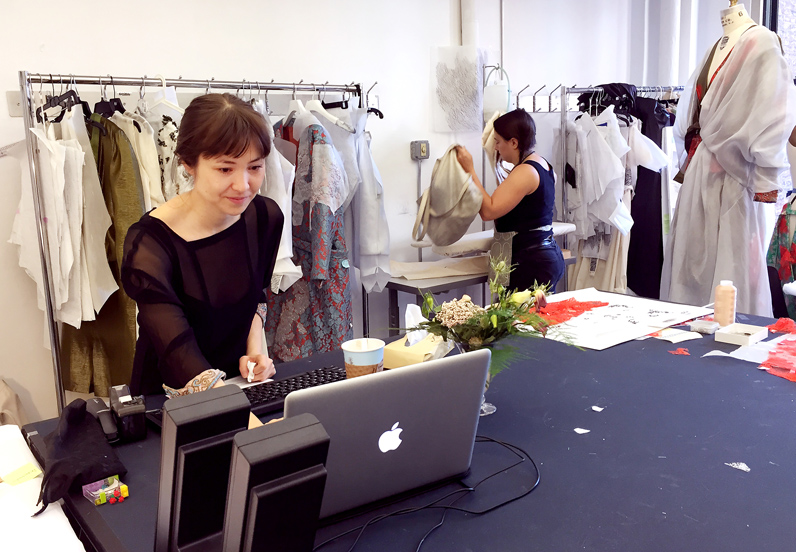 The Long Road to the Catwalk
To happen upon Maya Kano in the sixth-floor open studios of 2 West 13th Street is to witness someone in their own home. Carefully balancing her small figure on a tall stool, Kano works on her laptop. Nearby rests a neatly arranged assortment of flowers, light jazz music plays softly from external speakers, and drapes of fabric from her nearly finished collection frame her in semi-privacy. It's clear the budding fashion designer has set up shop in this manner for some months now.
Reserved for students and recent graduates of the MFA Fashion Design and Society program, these studios are typically bustling with frenetic energy, scraps of material, and the steady hum of a nearby sewing machine. But Kano's corner is cool and serene, perhaps belying the importance of an impending date: September 16.
That's when Kano, along with 10 of her fellow classmates and recent graduates of the program, will head up New York Fashion Week, the premiere annual event for the fashion world. Once there (and before international heavyweights from the industry), they will present years of hard work and self-discovery in a half-hour runway show at Milk Studios in Chelsea.
"I'm actually feeling very relieved at the moment," says Kano of the upcoming catwalk. "I spent the last year working on these garments, and it will be good to see my work from a different perspective—like a spectator."
The native New Zealander's collection, featuring deconstructed and enlarged shapes with hints of vintage technique, connects the old with the new, incorporating a modern, translucent layer atop a more classic cut. Eye-catching embroidery—all done by hand—acts as a unifying mechanism between the two pieces, both in construction and in theme.
"My vision for the collection was to create garments that were caught in a limbo, between preserving what once was and highlighting what's popular now," says Kano, who was also the recipient of the Swarovski scholarship award for 2014 and 2015, a biannual award given to a single student in the program to cover 50% of their tuition.
Now in its fifth year, the MFA Fashion Design and Society program was the first of its kind in the United States, and still among a select few across the world. Small and nimble, the program brings various artists, activists, and the socially curious together to create unparalleled works of art in garment form. The program's presence at New York Fashion Week was a prerequisite from the beginning.
"When I designed the curriculum in 2010, it was always my aim to have graduates show during Fashion Week," says Shelley Fox, the director of the program. "They need an international audience." That may be just a reflection of the program itself. In its inaugural year, 13 nationalities were represented across 18 students, and not much has changed since.
The yearly appearances at Fashion Week have done wonders in terms of exposure for both the students and the program in the fashion industry. "People across the world now recognize that our students are immensely talented, very well trained, and skilled at managing the range of facets that come with a career in fashion, including business, marketing, photography, and more," says Fox.
As for differentiators from the MFA in Fashion Design and Society program and its competition at Central Saint Martins and the Royal College of Arts, Fox is quick to point out its situation within The New School. "My students can tap into the social sciences, music, the liberal arts and other aspects of design," says Fox. "It's very influential and informative and all right at their fingertips."
Another distinguisher is the program's concentration on fabrication. "It always comes down to the fabric, as it's all about the making," says Fox. "Have a good grasp of construction and fabric, and you can input your own vision and style into your designs."
"The professors want you to test the materials and the environment. Here, the process determines the product, and it's a very supportive space," says Kano.
Returning to the upcoming catwalk show, Kano might feel a sense of relief at this moment, but Fox is still running through all possible scenarios in her head. "Well, you're always a bit nervous about a show," says Fox. "You can't take your eye off the ball. The collections the students produce as part of their final year is one thing, but how does that get communicated, in a real situation, on a real body? That's the tricky part about Fashion Week."
Watch live at https://livestream.com/indigitalmedia/ParsonsMFASpringSummer2016RunwayShow.