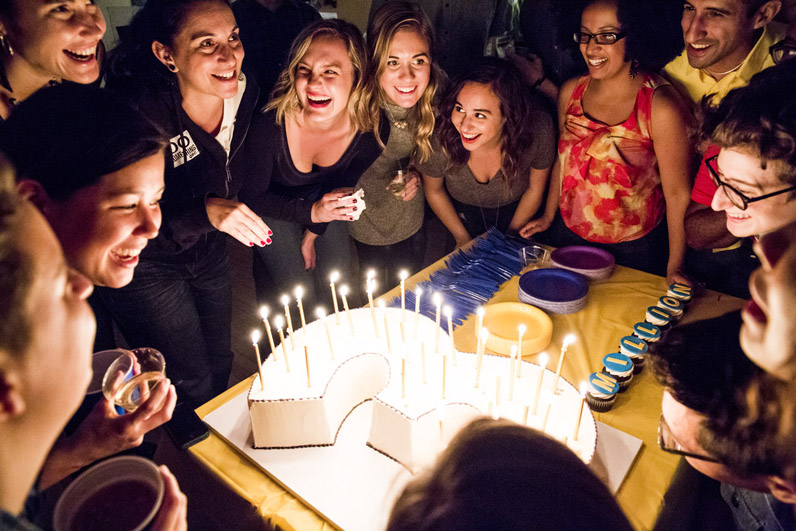 Nancy Lublin and New School Alums Save Kids in Crisis, Text by Text
When Liz Eddy (BBA Strategic Design and Management '12) was hired by New School trustee Nancy Lublin to join DoSomething.org, one of the largest global organizations for young people and social change, she was "absolutely thrilled."
"I was 22, fresh out of college, and being hired by someone who was named one of the World's 50 Greatest Leaders," the Parsons alumna says, referring to Fortune's annual list, which also includes the Pope and the Dalai Lama. "I could have never imagined that happening."
But in some ways, the fact that Lublin and Eddy's career paths crossed is not so surprising. Both are entrepreneurs who have launched nonprofit organizations and are active members of The New School community, sharing a lifelong commitment to social justice.
The university community's values, creativity, and work ethic align with those of Lublin. Accordingly, Lublin has drawn on university alumni to lead her organizations' missions.
"New School alumni are people who've really thought about what they want to do," she says. "There's an intention behind everything they do. There's deep thinking about a cause they want to get behind and the kind of life they want to lead."
It was Eddy's commitment to a worthy cause that caught Lublin's attention. At 15, Eddy co-founded Sisters on the Runway, an organization focusing on raising awareness about domestic violence. The organization began in Eddy's Montclair, N.J., high school and today has active chapters in two high schools and four universities, including The New School. The organization presents fashion shows to raise money for women and children residing in domestic violence shelters.
Following Sisters on the Runway's 2012 benefit, Lublin reached out to Eddy to invite her to a charity awards dinner at which Lublin was to receive an award for her work at DoSomething.org.
Eddy accepted Lublin's invitation and learned about DoSomething.org, whose mission inspired her. Lublin first asked her to intern for the organization. "After graduating, she offered me a job as Special Projects Associate, and then I moved up to Special Projects Manager. The experience has been amazing," says Eddy.
During her tenure at DoSomething.org, Eddy helped Lublin foster a culture of volunteerism and activism among young people. Teens who log on to the site can participate in a variety of social-good focused projects, including public space cleanups and gardening; climate change awareness campaigns; and initiatives to create "bully-free zones" in schools.
While working full-time at DoSomething.org, Eddy also helped Lublin launch a second organization, Crisis Text Line, the nation's first free 24/7 text line for people in crisis. The idea for the organization emerged from DoSomething.org's text-based correspondence with thousands of teen volunteers; although most young people would write to discuss projects, some would air concerns about being bullied at school, drug addiction, or abusive family relationships.
"One call stopped us cold," recalls Lublin. "A young girl said she was raped by her father. It felt like a punch in the stomach. We thought, 'How could we do more to help people like her?' Crisis Text Line was the result."
Since 2013, Crisis Text Line's crisis counselors have processed more than eight million text messages and saved countless lives, according to Lublin.
Lublin recently resigned as CEO of DoSomething.org to lead Crisis Text Line full time. Eddy, who was recently promoted to director of communications and events for the organization, says, "Crisis Text Line is my baby. To build something from the initial concept and see it grow into a free nationwide service that helps people get the support they need any time is amazing."
For more information, visit crisistextline.org and dosomething.org.