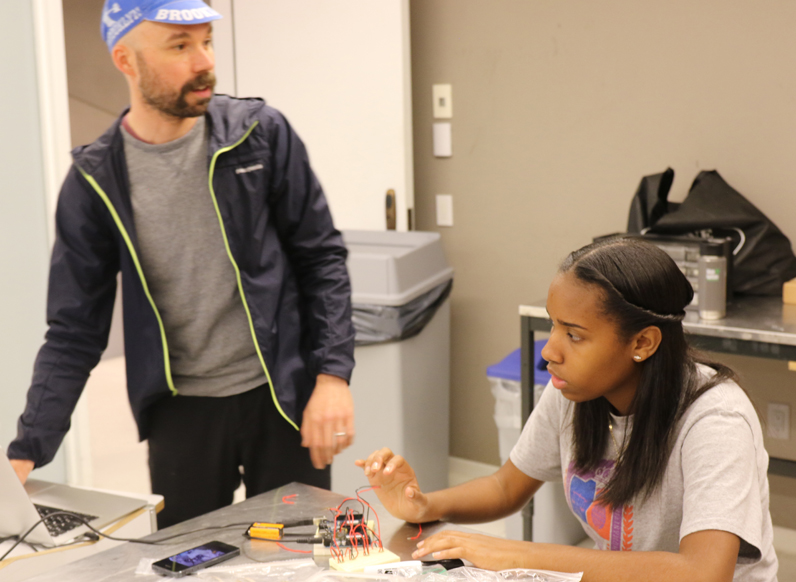 Tech Students Get Creative, Jump-Start Careers
Even though she's only a few subway stops away from Manhattan, Noelia Bautista has always thought of New York's art and design scene as a world away from her Bronx home.
That world got a lot closer when she studied at Parsons School of Design. It was there, last semester, that she took her first step toward realizing her dream of becoming an interior designer.
Bautista was one of a dozen high school students in Creative Technology, a partnership between New Visions Charter High School and Parsons that shows students how to marshal cutting-edge technologies in a college-level environment. Under the instruction of Ryan Raffa, a part-time lecturer at the leading art and design school, students learn how to apply technology to "creative problem solving" and, in the process, jump-start a career in their chosen field.
"It was cool for me to learn these new skills, and to have a look at what I might be doing in the future," Bautista says. "Building my own music box is something I never ever thought I would do."
The course, which provides New Visions students with high school elective credit, is a pilot program rooted in creative technology and design fundamentals. Students develop a technical foundation, learn design and artist processes and practices, and create their own projects and prototypes. Students document their process with learning portfolios that can be used for applications to design or technology-based colleges.
"This course opens up a big window for our students," Raffa says. "Not only do they learn about the creative process for addressing specific needs, but they are also given the opportunity to have a true college experience while accessing a new career path."
Prompted by the theme of sound and music, students in Creative Technology designed projects such as an adjustable chair that plays music, a teddy bear that sings melodies and an umbrella that raises the volume of a pre-programmed song as precipitation increases. For her project, Bautista created a music box wired to communicate with a computer using Ardunio (an open-source electronic prototyping platform) code that she developed.
Interior designers don't necessarily have a lot of use for breadboards, wires, chips, and microcontrollers. But, by engaging the iterative design process, as well as user testing, sketching, and prototyping, Bautista was able to cultivate the creative skills needed to tackle a wide range of design challenges.
"Whether you're designing technology or designing someone's house, it's important to learn the design process and to think outside the box," Jessica Sasko, program officer at New Visions, says. "This class shows our students that there's a world of creators out there that they can be a part of."
For Bautista, taking Creative Technology brought New York's art and design world a whole lot closer.
"I'm excited to input that experience into a career I want to pursue," she says. "I'll have to think creatively. Taking this class has opened up my creativity."
*Parsons Pre-College Academy for grades 3-12 heads back to school on Monday, Sept. 26 with Saturday courses in art, design, media and technology. To register, visit newschool.edu/parsons/precollege-courses/
*An open house for 
Parsons Pre-College Certificate
 will be held
Saturday, Sept. 12. L
ed by program director Jessica Walker, the event will feature interactive workshops, tours, talks with Pre-College faculty, and a chance to win a free class. Light refreshments will be served.
RSVP online
.