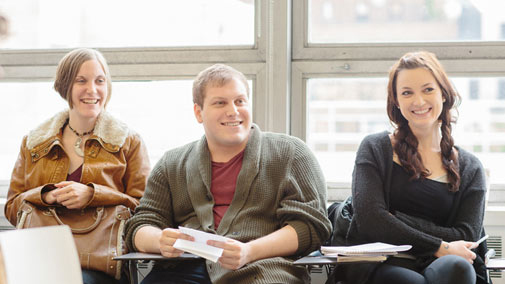 Embracing Social Action, MA TESOL Hosts English Language Teaching Conference
Students in the Teaching English To Speakers of Other Languages master's program (MA TESOL) aren't just breaking down language barriers—they're breaking down the political, social, and economic barriers facing underserved communities.
In recent years, students have designed curricula for and taught English to a number of communities in need, from food service workers to parents in multilingual families to survivors of domestic violence.
To celebrate the MA TESOL, The New School will convene a conference, Meeting Challenges, Exploring Solutions in the Adult ESOL Classroom, on Saturday, Oct. 24, 9:00 a.m. to 4:30 p.m. at The Auditorium at 66 West 12th Street. Hosted in partnership with the Literacy Assistance Center, the conference is designed to provide English language teaching professionals with a space to share ideas, form friendships and network.
"The aim is to bring together professionals who are constantly striving to address critical issues in the field and hone their craft," says Lesley Painter-Farrell, director of MA TESOL.
Embodying The New School's mission, MA TESOL encourages students to confront pressing social issues through actionable solutions. Through programs such as OUTReach, students connect with external partners including Good Will, University Settlement, and Go Project to teach English to immigrants for free.
The benefit of MA TESOL's social engagement is twofold: students who teach English gain invaluable hands-on experience; individuals who learn English gain the tools to secure employment, achieve economic security, access quality health care, support their children in their schooling, and actively participate in the civic life of their communities.
"The integration of what we do outside of the classroom is critical—there's no disconnect between theory and practice," Painter-Farrell says. "Through this approach, students can help empower and transform communities."
The New School's Master of Arts in TESOL program offers professional teacher training with a focus on social action and addressing the needs of adult students. U.S. News & World Report listed it among the top online graduate programs in education in the 2013 edition of Best Colleges. For more information, visit the program's website.