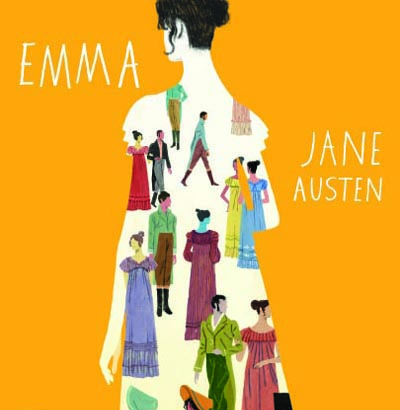 Lang Celebrates 200th Anniversary of Jane Austen's Emma
Upon hearing the name Jane Austen, one's first thought may be of her extremely popular novel Pride and Prejudice. The second may be Colin Firth, the actor who portrayed the lead character and eternal heartthrob Mr. Darcy in the popular BBC series.
Problematizing the romanticized version of Austen's most well known novel is one of the primary goals of "Jane Austen," the author-centric literature class taught by Elaine Savory, associate professor at Eugene Lang College. "I want to bring Jane Austen back to life, and challenge the common misreading of her greatest works," Savory says.
She is of course referring to the "chick lit" association often ascribed to Austen's novels, a misperception that reduces the author's nuanced prose to mere trysts and courtships. "It's like barnacles clinging to a ship!" she exclaims, and her class, taught every other year, encourages fresh readings of Austen with the help of responsible scholarship and readings that provide historical and cultural contexts. The course dives deep into Austen's use of language to describe social relationships in a time when marriage was frequently the "biggest political event of a woman's life."
"Austen was a conscious stylist, first and foremost," says Savory. "Her focus was on the contradictions of ethics and the treachery of language." Savory stresses the way Austen constantly questions not only the use but also the misuse of language. "Everything we think and often what we do is dependent on the interpretation of language," Savory notes. Many perceptive readers have come to appreciate Austen's style over time—but perhaps we need to be reminded of the rewards a close reading of her fiction offers.
"Austen takes perceptions and turns them inside out like a glove," says Carolyn Berman, associate professor and co-chair of the Department of Literary Studies at Lang. "She reproduced an entire community's utterances in a satirical manner, expressing their thoughts subtly and through well-executed dialogue."
Berman is the initiator and one of three organizers of an event this semester celebrating the 200th anniversary of Austen's Emma, designed to explore these ideas further. "Emma at 200: Fiction, Fashion, Feminism," which will be held on October 24 from 10:00 am to 7:30 pm., will uncover the "fashions of fiction, the fashions of feminism, and fashion itself in fiction," as Berman notes. The event includes discussions of what we might define as Austen's feminism as well as the lasting appeal of the novel and the cultural revolutions it depicted, Austen's work and fashion, and Emma and modern dating apps. The event will conclude with a screening of "Clueless," a film based on Emma and now celebrating its 20th anniversary.
Featured speakers throughout the day include Talia Schaffer, Professor of English at CUNY, who will speak on the history of non-romantic marriages and their place in societal development, Mary Jean Corbett, a professor of English at Miami University in Oxford, Ohio, who will discuss Virginia Woolf's response to Austen, and Timothy Campbell, an assistant professor of English at the University of Chicago, who will discuss the fashion system of Austen's era. For a full schedule of the day's events, and to RSVP, visit https://events.newschool.edu/event/emmaFFF#.VgqflGRVhBc.
Of the questions raised at the 200th anniversary of Emma, many revolve around Austen's lasting importance in a variety of mediums, including pop culture. So why return to the author again and again so many years later? To that, Savory replies, "She speaks to us." That, and as any devoted Austen reader will know, she's remarkably funny.