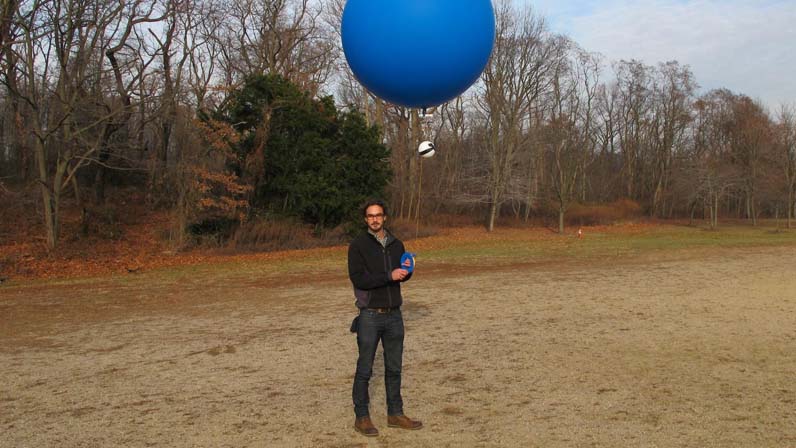 Parsons Alum Sean Baker Named 'New Talent' By Metropolis
During his time at Parsons School of Design, Sean Baker (MFA Transdisciplinary Design '14) rose to the top of The New School's class of socially conscious innovators, winning a $10,000 New Challenge grant for the disaster-response project he designed with his classmate, James Frankis.
The project, Project Fogg, uses an air balloon equipped with a camera and Wi-Fi device to collect aerial footage of an area after a natural catastrophe; the information is then transmitted to on-the-ground users who can utilize that data to develop a response plan.
Now, in his professional career, Baker is rising through the ranks of the next generation of promising young designers. Recently, he was featured in Metropolis magazine's "New Talent" section, which recognizes designers "who are developing key strategies for the future."
Metropolis praised Baker for his "sensitivity to different perspectives and experiences" and his passion for design thinking.
"I think one of the main things that designers in my position can bring to the table is questioning people's preconceived notions of the problem, or the framing of the problem," Baker, now the lead designer for the U.S. Office of Personnel Management's Innovation Lab in Washington, D.C., told the magazine.
Fred Dust, the IDEO partner and New School Trustee who nominated Baker for the magazine mention, lauded Baker for his commitment to design thinking.
"Watching Sean and James speak to the work reveals the potential human-centered design has for solving intractable infrastructural problems," he said. "Sean has gone on to be lead designer at the Office of Personnel Management Innovation Lab, which was one of the first U.S. government agencies to adapt design thinking to engage with problem solving. It has attracted the brightest talent and is where people practice design thinking while learning the real constraints and possibilities of working with government, which is why Sean belongs there."