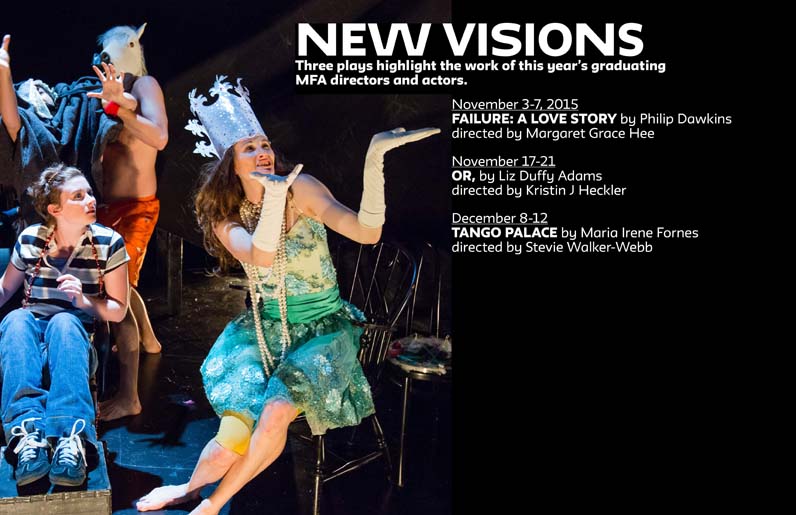 See Drama MFA Directors in Action at New Visions 2015
Beginning in November, graduating MFA directors from the School of Drama will take the stage and share their talents with the public at the NEW VISIONS Directing Festival. This annual event also features the work of the graduating School of Drama MFA actors.
The festival features three plays directed by graduating MFA directors Margaret Grace Hee (Failure: A Love Story), Kristin J Heckler (Or) and Stevie Walker-Webb (Tango Palace).
"What's fantastic about this experience is working on a play that's infused with an energy that is exciting and playful, with a hope of a more accepting world," Heckler says. She adds that the actors have fed off that energy, delving head first into the language, character, and the farcical nature of the play.
"This directing opportunity has been awesome," Hee says. "(The design staff) have been extremely resourceful in finding solutions in making the theater magic that this show requires more tangible."
As part of the rehearsal process, the student directors are being mentored by established directors in the industry: Lila Neugebauer advises Hee; Jackson Gay is working with Heckler; and Robert O'Hara is paired with Walker-Webb. School of Drama MFA directing head Lou Jacob supervises the festival.
NEW VISIONS runs for three separate weeks:
Failure: A Love Story by Philip Dawkins, directed by Margaret Grace Hee, Nov. 3-7
Featuring Gabriela Bonomo, Joy Donze, P.J. Johnnie, Erin Pettigrew, and Tristan Sample (Drama MFA '14)
Or by Liz Duffy Adams, directed by Kristin J Heckler, Nov. 17-21
Featuring Bess Miller, Ryan Natalino, and Brennan Lowery (Drama MFA '14)
Tango Palace by Maria Irene Fornes, directed by Stevie Walker-Webb, Dec. 8-12
Featuring Graham Miles and Jak Watson (Drama MFA '15).
Performances run Tuesday through Saturday at 8:00 p.m., with a Saturday matinee at 3:00 p.m., at the School of Drama Theater, 151 Bank Street, Third Floor, New York City.
Admission is free, but seating is limited and reservations are recommended by calling Ticket Central at 212.279.4200 or emailing ticketcentral.com. Visit School of Drama's website for more information and to view the actors' headshots and résumés.