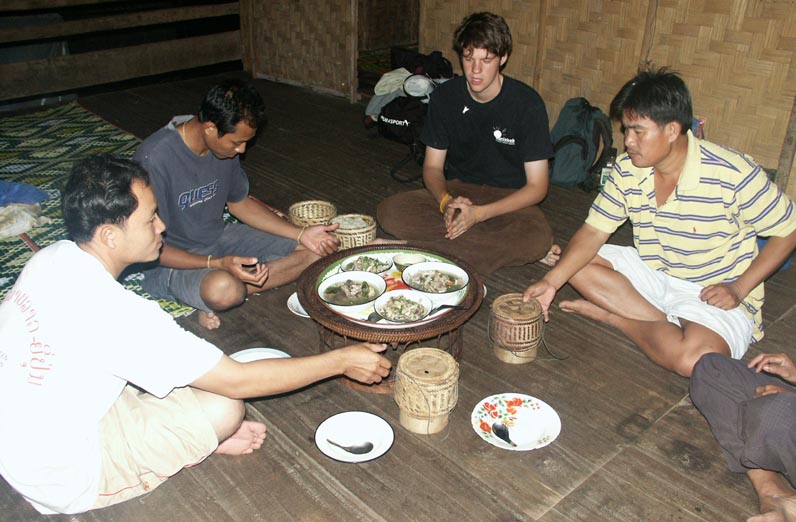 Going Off Grid: Simon Henschel Brings Power Systems to Remote Communities
While stationed in Laos in 2010, Simon Henschel embarked on a two-day journey to Nam Kha, driving 200 miles along unpaved roads and rural lanes to reach the village in the country's isolated, mountainous northern region.
Arriving in Nam Kha, Henschel came upon a hard-working agrarian community that was deeply connected to the land but cut off from many of the comforts of modern society.
"They didn't have any electricity," Henschel (Environmental Policy And Sustainability Management '16) recalls. "It's out of the way, so it wasn't included in the grid extension plan of the government."
Nam Kha was, however, in Henschel's larger plan to bring quality illumination to power-starved communities around the globe.
Henschel is the chief operating officer of Sunlabob Renewable Energy, a Laos-based company specializing in the creation of renewable energy and clean water systems throughout the developing world. In his position, which he has held for last five years, Henschel has shepherded the expansion of Sunlabob's renewable, off-grid energy services to 28 low-income countries in Southeast Asia, India, Africa and the Pacific.
As a student in Milano's Environmental Policy And Sustainability Management program, Henschel has been learning how to navigate the laws, policies and cultural needs that are unique to each community—a means of honing Sunlabob's socially engaged approach.
"I've been involved in contract law, project management and international competitive bidding, and I've witnessed incredible amounts of dysfunction," he says. "In the private sector, you're in the position to transform a society. We need to understand how a state functions, and vice versa, in order to create dialogue and partnerships that will help to improve the lives of all people."
Like any private company, Sunlabob is driven by profit. But as Henschel explains, the company's mission goes beyond the bottom line: It establishes energy systems that are environmentally sustainable, sensitive to the local cultures, and focused on the long-term development of its client communities.
"My company and I feel the best approach is to help communities achieve lasting development," Henschel says. "Development comes not only from providing electrical services, but also from teaching local residents how to manage those services. We believe that the ultimate development is rooted in sustainability and education."
Take Sunlabob's project in Nam Kha. Working outside of Laos' electricity transmission grid, Sunlabob harnessed the power generated by a river in the village with the latest in off-grid energy technology to create a hybrid energy system that comprises a hydro power plant and solar panels. Following implementation of the system, the transformation in the village was "immediate and remarkable," Henschel recalls.
"The village never had electricity, only kerosene lamps," he continues. "Now, they have access to 120 volts; they can run TVs and fridges. They have the ability to cook and play music. Kids can even do their homework after dark."
But equally as important to Sunlabob is for client communities to practice ownership over these new systems. In cooperation with a Swiss non-governmental organization, Sunlabob trained residents in Nam Kha to operate the electrical system, as well as how to conserve electricity.
"We see energy as a door opener to development, Henschel says. "In helping communities to understand what energy is and how to use it sustainably, we create energy literacy among the population. Now, the residents of Nam Kha can understand and maintain and use energy for income generating activities."
At 33, Henschel is one of the youngest COOs on the planet. His age, however, can't be equated with lack of experience. Sunlabob was founded by his family 15 years ago, and Henschel has been involved, in various capacities, ever since. In 2006, he became the company's manager for international projects, working in multiple African countries, China, Thailand and Singapore. Six years later, he was promoted to COO.
With an eye toward social advocacy, Henschel and Sunlabob hope to connect off grid communities to new power sources—and, by extension, sustained and meaningful development.
"We are more and more interested in not only scaling, but scoping our business, and influencing governments and institutions to make decisions differently," Henschel says. "It all comes down to getting private companies, policy makers and communities to understand the intersection of cultural and human needs."