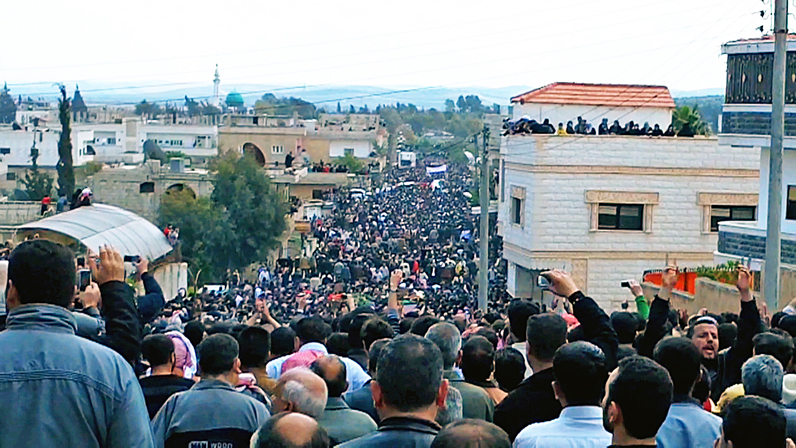 Abounaddara Focuses on the Faces Behind a Conflict
When the members of Abounaddara log onto international media sites for news about the war in their home country of Syria, they are bombarded by scenes of violence and human carnage.
The media's obsession with gratuitous images is deeply disturbing to the Damascus-based film collective. Though they call attention to the conflict unfolding in Syria, such depictions have the unintended consequence of dehumanizing the individuals suffering through it, reducing them to nameless, faceless casualties.
"My comrades and I were frustrated because the media is only interested in the fighting and the political and religious issues, but they never show people during daily life," says Charif Kiwan, the spokesperson for the group, during a Skype interview. "We thought, 'Our society, our countrymen, are totally invisible.'"
To subvert "the media's demands for nonstop confrontation," as Kiwan put it, Abounaddara is taking a fundamentally different approach to capturing a country in war. The group—made up of mediamakers whose identities are not disclosed publicly—shoots short, intimate, video portraits of people from all sides of the conflict. Government supporters, rebel fighters, and average citizens are all recorded—a means of transcending the political and religious context of the conflict and highlighting the shared humanity and dignity of the Syrian people.
"Once you consider the Syrian people as human beings—eating, dancing, laughing, crying—you are obliged to be aware of their humanity," Kiwan says. "Our goal is to represent our civil society accurately, and to translate the revolution of this society aesthetically."
Abounaddara films have been praised by viewers far and wide, including those at a leading progressive university in New York City. That university, The New School, will recognize the collective with the Vera List Center Prize for Art and Politics, an award that "honors an artist or group of artists who has taken great risks to advance social justice in profound and visionary ways." The prize, an object created by Yoko Ono, will be presented to members of Abounaddara during an Oct. 22 ceremony that will also feature Kiwan in conversation with Kenneth Roth, executive director of Human Rights Watch, and remarks from New School President David Van Zandt. The event coincides with a three-day conference, an exhibition of Abounaddara's work at The Sheila C. Johnson Design Center, and creative partnerships between the group and New School students, faculty, and staff.
"Building on our legacy as the University in Exile, which has now become a hub of critical and creative interventions throughout the world, The New School is a natural place to showcase Abounaddara's work and create conversations that expand upon related themes and ways of working," says Carin Kuoni, director and curator of the Vera List Center For Art and Politics.
Although flattered by the VLC's invitation, Abounaddara was, at first, dubious over whether a partnership with The New School was in its best interests.
"When the Vera List Center contacted us, we were surprised—we hesitated. It's quite risky to be involved with an American institution, given the ugly reputation of the U.S. in Syria and the Arab world," Kiwan recalls. "But we quickly realized that it may be a great opportunity to create something new, to forge a relationship between our societies, between students and artists, without political interference."
Abounaddara has been releasing "bullet films" every Friday since the start of the Syrian uprising in 2011, earning praise from such venerable institutions as the Sundance Film Festival, Human Rights Watch and the Venice Biennale. In the process, it has been pushing media producers around the world to adopt their own ethics of responsibility—what the group dubs "the right to the image"—that calls for a more nuanced depiction of life in Syria.
That phrase is being used for the title of an exhibition of Abounaddara's work to be mounted at the Sheila C. Johnson Design Center. Opening with a reception on Thursday, October 22, from 5:00­–9:00 p.m., The Right to the Image is an artistic and legal engagement that uses Abounaddara's films as a launch point to reflect on crises happening around the world. Each week features a new set of films showcasing one of the group's approaches, such as portraiture and representation, subversion of images, and open-endedness as a tactic. The Right to the Image coincides with a worldwide campaign calling on organizations to post Abounaddara films on their websites and connect them with their own constituencies each Friday during the exhibition.
From its inception, Abounaddara has stayed anonymous while seeking "to invent a space to share with people without any consideration of nationality or religion," Kiwan says. To that end, the group is partnering with New School students, faculty, and staff on several collaborative projects throughout the fall. Students from the School of Media Studies are participating in a workshop with Abounaddara members to create their own films (the course culminates in a showcase in December) while students from the College of Performing Arts are developing "music interventions" that draw on themes of protest to be presented at the conference.
For the last five years, Abounaddara has worked independently, underground, and without support from any outside organizations. Now, as the group forges a partnership with The New School, it is hoping to bolster its mission of offering an alternative view to hypermediated war reporting and restoring the dignity of people affected by conflict.
"We have a duty to resist the status quo, to subvert boundaries, to oblige the viewer to reconsider his or her way of looking at the world," Kiwan says. "We will pursue this goal with The New School."