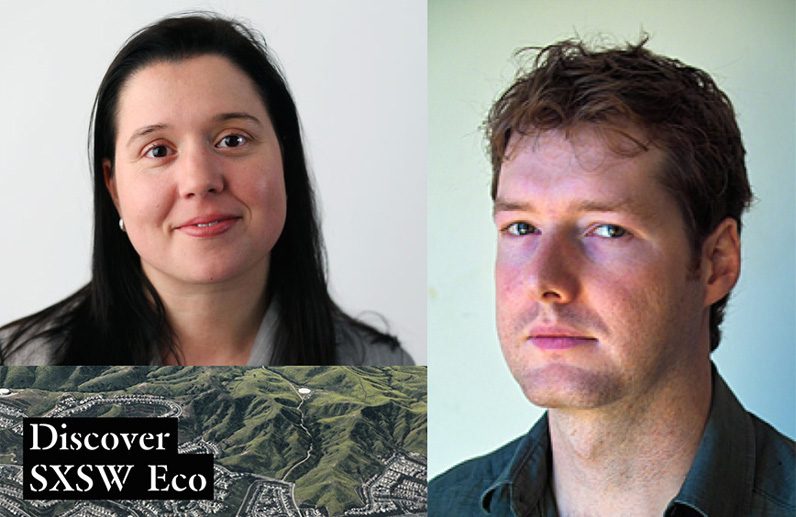 The New School Plugs Into #SXSWEco
This week, business leaders, investors and innovators from across the country will descend on SXSW Eco in Austin, Texas – a space to brainstorm ways of driving economic, environmental and social change for the collective good.
Among them will be Daniel Sauter and Ana Baptista, two faculty members at The New School who are using design to address issues ranging from sustainability to social justice.
Through her participatation in various events at SXSW Eco, Baptista will introduce attendees to the work of the Tishman Environment & Design Center (TEDC), which looks to promote sustainability and climate action through the lens of interdisciplinarity and equality.
"I'm always interested in inserting values of social justice into the environmental dialogue, something we do often here at The New School and specifically at the Tishman Environment and Design Center (TEDC)," says Baptista, Professional Practice in Environmental Policy and Sustainability Management at Milano School of International Affairs, Management, and Urban Policy and associate director of TEDC. "Waste is a perfect example of the importance of this connection; sustainable waste systems not only promote waste reduction, but also design for equitable waste distribution, ensuring certain communities aren't disproportionately affected by polluting waste facilities."
She added, "SXSW Eco is a unique space to have this conversation, since it brings together experts and practitioners with innovative social and tech entrepreneurs who are forging new paths in the environmental space."
At SXSW Eco, Baptista will join the judge's panel for Place by Design's "Resilience" category, which highlights innovative projects that contribute to a more adaptive, sustainable world. What's more, Baptista will host a pop up course "Trash Talk 101: Working Toward a Zero Waste World," in which she will offer ways to innovate closed loop systems that nurture living economies and environmental justice. Finally, she will take part in "Place by Design Town Hall: The Future of Public Space," a panel discussion on the future of place-based design.
Sauter, associate professor of Data Visualization at Parsons School of Design, is part of the team judging the "Data + Tech" division of Place by Design, SXSW Eco's public space design competition. "Data + Tech" highlights five finalist projects whose innovative work utilizes emerging technology to generate social impact. In addition, he will lead "Data Visualization for Social Engagement," a discussion of the dynamics of remote sensing and the Internet of Things (IoT), with a focus on visualizing mobile interactions and environmental data.
"I'd like to convey how remote sensing and data visualization can be used for research and advocacy, as well as illuminate the resources such systems absorb," Sauter says. "Digital ecologies are as elusive as the Cloud and often go overlooked—a significant oversight given there are more connected devices than connected people today."
SXSW Eco takes place Oct. 5-9 at the Austin Convention Center in Austin, Texas. To stay in the loop with The New School's participation and thoughts on this conference, follow us on Twitter @TheNewSchool. For a full schedule of events, visit http://sxsweco.com/.