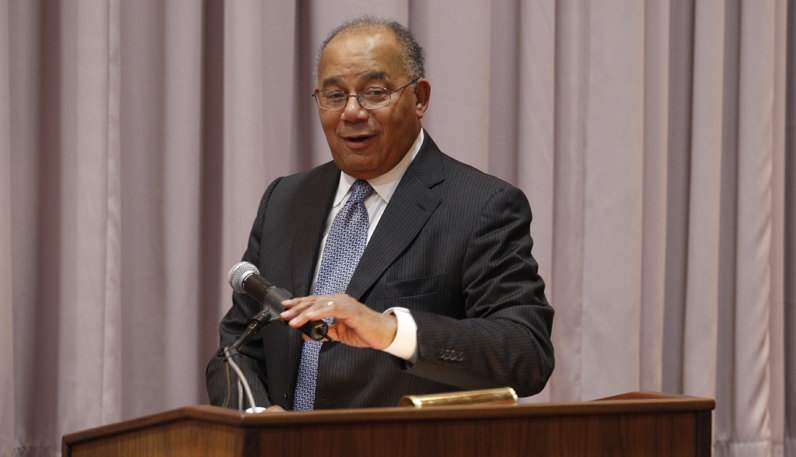 The New School Remembers Dr. Robert Curvin
Dr. Robert Curvin, who passed away on Tuesday, is described by The New York Times "as an advocate for Newark who never gave up on his troubled city and devoted a scholarly career to alleviating urban poverty."
But the impact of Curvin's career wasn't confined to Newark: He also made a lasting impression at The New School, where he served as dean of the Graduate School of Management and Urban Professions from 1984 to 1988.
The New School community mourns the loss of Curvin, who died last week at his home in the Vailsburg section of Newark. He was 81. We also offer our condolences to his family: his wife, the former Patricia Hall, their children, Frank and Nicole, who was director of admissions at Eugene Lang College at The New School from 2005 to 2009; three grandchildren; a brother, William; and four sisters, Dorothy Spears, Ermel Parker, Hilda Johnson and Helen Martin.
Curvin's impact on The New School can still be felt today. As dean, he led the transition and transformation of the Graduate School of Management and Urban Professions to the Graduate School of Management and Urban Policy, which is now the Milano School of International Affairs, Management, and Urban Policy. He also used his position to advocate for greater educational access for all students, regardless of socioeconomic background.
"Bob's life work reflects a strong commitment to racial equality that is still central to our Milano educational model today," says Mary Watson, executive dean at The New School.
Michelle Depass, the current dean of Milano, praised Curvin as "a passionate advocate for the poor and people of color and a trailblazer on so many frontiers."
"As a Ford Foundation official," a position Curvin took following his tenure as dean of the Graduate School of Management and Urban Policy, "he led the organization's work on urban poverty and expanded the foundation's work on urban planning and infrastructure policy into developing countries," she added.
During a reception honoring Curvin in 1988, Jonathan F. Fanton, president of The New School at the time, encapsulated Curvin's contributions to the university.
"Bob Curvin brought a steady hand, even temperament and a clear vision of the mission of the Graduate School," Fanton said. "With quiet but effective determination, Bob moved on all fronts at once."
Curvin was such a beloved figure that when he left The New School for the Ford Foundation, a fellowship was established in his name.
At The New School, and throughout his career, Curvin was dedicated to social engagement. In the early 1960s, he co-founded the Newark chapter of the Congress of Racial Equality, a group that successfully lobbied to integrate construction jobs. In addition, after earning his doctorate from Princeton University, he supported Kenneth A. Gibson in being elected as the first black mayor of a major Northeast city. He also served on the editorial board of The New York Times for nearly six years.
"Bob Curvin brought together the best possible attributes of being an activist, professor, rational policy analyst, a manager and a leader," says Norman Fainstein, President Emeritus of Connecticut College, who served with Curvin during his time at The New School.
In a Q&A-style profile with the Newark Star-Ledger published last year, Curvin recounted his lifelong commitments to education, activism, and justice.