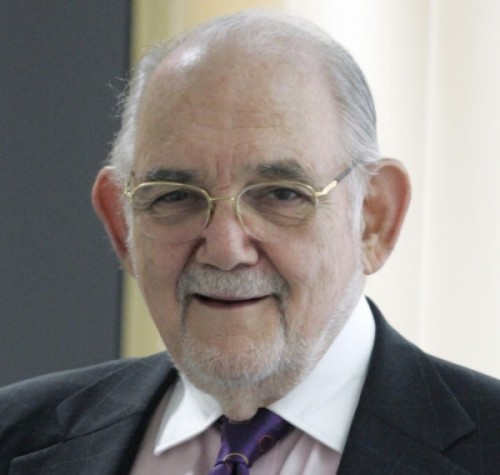 The New School Remembers Julien J. Studley
The New School mourns the passing of Chair Emeritus and long-serving Trustee Julien Studley, a New York City real estate legend and philanthropist who came to New York as a teenage war refugee and built a business that would transform Manhattan's skyline. He was 88.
Julien Studley was born in 1927 to a Polish-Jewish family in Brussels. In 1940, in the midst of Nazi Germany's invasion of Europe, he and his his younger brother, George, and parents, fled to France to escape German forces approaching the Belgian border. Shortly thereafter, the family again moved—this time to Havana, Cuba, where they awaited transit to the United States. Havana proved to be a transformative experience for the adolescent Mr. Studley, who for the first time in his life no longer felt ostracized because of his ethnicity.
In 1943, the Studleys finally received visas that allowed them to move to New York. Mr. Studley, who was 16 years old upon arriving in the United States, decided against returning to school and instead set to work in the growing metropolis. For the remainder of the decade, he learned the ropes of New York's booming real estate market as he supported himself by cutting diamonds, a trade he had picked up in Cuba.
After a three-year interruption for National Guard service in Tennessee, Mr. Studley's trade in Manhattan properties steadily increased throughout the 40's and early 50's. In 1954, he founded the commercial real estate firm, Julien J. Studley, Inc. (more commonly known as Studley). As chairman and chief executive of his eponymous firm, Mr. Studley was credited with establishing the first tenant representation firm, and over the next 50 years, he was instrumental in real estate deals that changed the face of Manhattan, including Citigroup Center, Worldwide Plaza and the Time Warner Center. After serving 50 years as its leader and establishing 14 offices nationwide, Mr. Studley sold the firm in 2004 and formed Studley New Vista Associates, an organization dedicated to real estate investment and consulting.
The early 50's also marked the start of Mr. Studley's lifelong relationship with The New School, New York's legendary progressive university. Having befriended college graduates during his military service, Mr. Studley returned to New York determined to restart his education. In classes like Heinrich Blücher's storied philosophy seminar, Mr. Studley found a stimulating learning environment and a university that he described as "family."
Mr. Studley's relationship with The New School grew alongside his real estate career. For more than 10 years, he led a course at the university on New York real estate that both offered insight from and trained some of the sector's most influential voices. In 1987, Mr. Studley became a member of the Board of Trustees, and served as its chair from 2008 to 2009. In 1997, he was honored with a Distinguished Service Award from The New School.
Influenced by his early experience in Cuba, Mr. Studley's involvement with the university often centered on supporting the study of international affairs. In 2006, his donation helped launch The New School's Observatory on Latin America, and in 2012, The New School renamed the Julien J. Studley Graduate Program in International Affairs to honor his half-century of service.
"Julien was passionate about promoting understanding, cooperation, and education across cultures and borders," said Michael Cohen, founding director of the Julien J. Studley Graduate Program in International Affairs at The New School. "His early hardships gave birth to a curiosity about the world, which informed his relationships, his business dealings, and his philanthropy for the rest of his life."
Through his Julien J. Studley Foundation, Mr. Studley contributed significant support to a variety of arts and education organizations, including Lincoln Center for the Performing Arts, The Film Society of Lincoln Center, and the Graduate Center of CUNY, as well as other projects in Latin America and Russia.
The New School extends condolences to his wife, Jane, and his entire family.
*Contributions may be made in Julien's honor in support of his endowed scholarship fund.