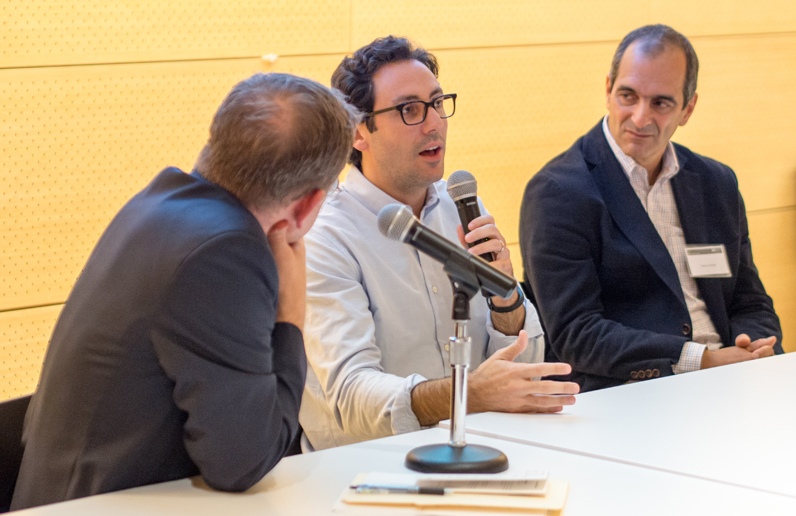 XRC Labs Launches at Parsons with Warby Parker Co-Founder Neil Blumenthal
Time and time again, Neil Blumenthal and his friends had to empty their wallets for quality eye glasses. They were tired of it, and they knew millions of other consumers were, too.
So, Blumenthal and his friends decided to give consumers another option. In 2010, they launched Warby Parker, a business that would offer quality frames—and a quality experience for customers—at an affordable price.
"We had to focus on and provide the best image of our brand for our early customers," Blumenthal said. "Businesses need to build a brand around a set of values and stay true to them."
Blumenthal words resonated with the crowd of entrepreneurs and educators who packed the New School's University Center for the launch of XRC Labs, a retail and consumer goods accelerator housed on the campus of The New School's Parsons School of Design. The 10-week program provides startups access to design resources, retail mentorship, and branding expertise that accelerate the growth and impact of the companies.
Blumenthal knows a thing or two about accelerated growth. In a fireside chat with Parsons Executive Dean Joel Towers and XRC Labs Managing Director Pano Anthos, Blumenthal discussed the importance of retail ethos, design thinking and iterative testing to a successful business. In addition to producing a low-cost, high-quality products, Warby Parker emphasized a holistic customer experience, allowing consumers to try on eyeglasses at home before making their purchase.
Prior to the discussion, XRC Labs' first cohort of companies pitched their products and services while discussing their goals for the future. Companies included RF Madison, a ready-to-wear men's collection that is using data to change the game on sizing; Eastern Kingdom, a bag designed to combine the luxury of a high-end handbag with the versatility of a gym bag; Natalia Allen, a fashion a new model for sustainable fashion that can create garments in as little as 30 minutes; Fine Mine US, a "software as a service" technology that creates look-books on product pages for fashion retail sites; Urbacraft, a platform that allows customers to create toys and manufacture them on-demand; Gleemco, an online platform for consignment jewelry; Forrge, a company geared toward solving problems in the retail and on-demand economy, particularly in the retail labor force; and OkMyOutfit, an on-demand service that brings styling to the masses.
"We are excited to launch the first cohort of our program, which features exceptional startup companies in the retail and consumer goods space," Anthos said. "These markets are massive, hard to crack, and here to stay, which is why it is so important to foster an ecosystem of visionaries who can deliver experiences and innovations that haven't really been done before."
"XRC Labs is helping to bring the next generation of innovation and design to the retail industry, and Parsons is thrilled to be a part of the first cohort class," Towers added. "Business increasingly recognizes that good design is critical to success. These new companies will be key in continuing to grow and evolve the industry."
For more information on XRC Labs, visit xrclabs.com.