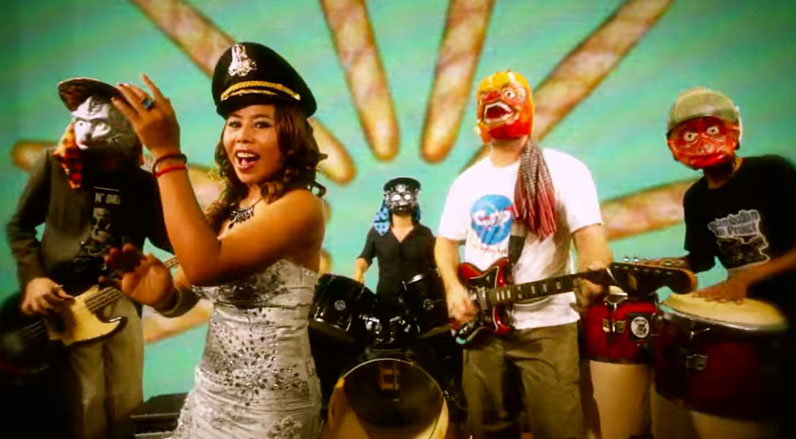 Cross-Disciplinary Exhibition by Parsons, NSSR, and Lang Students 'Disrupts Ideas of the Future'
Last spring, two teams of New School students flew to Paris and Phnom Penh as part of a workshop that examined the fraught and intertwined histories of Cambodia, the United States and France — histories marked by colonial repression, migration and war.
Searching for a Cambodian presence in the French capital, the Paris team was "told over and over again that the Cambodian people were invisible, even though we knew they had come to Paris throughout the 19th and 20th centuries," Elise Gerspach, MA Anthropology '15, says.
Just earlier, the Phnom Penh team met up with Sok "Cream" Visal, who had founded Klap Ya Handz, a collective of Khmer singers, rappers, artists and producers working to promote Cambodian people, arts and culture.
It was through Sok that the Paris team finally found what they were looking for — the KLK, a French-Cambodian hip hop group that raps about the experience of second and third generation Cambodians in France, the desire for solidarity among the Khmer diaspora, and the past, present and future of their people.
Those meetings, and engagement with artists, musicians, political organizers, curators, designers and scholars in Paris and Phnom Penh, sparked the idea for Futurographies: Cambodia-USA-France.
"What we saw in the KLK, and other artists and scholars we met in France, Cambodia and the United States, was a narrative that focused not only on the past—the tragic events and violence around Western military campaigns and the takeover of the Khmer Rouge—but also the future," says another student, Quizayra Gonzalez. "That's what we found so exciting."
Echoing Gonzalez, Gerspach adds, "They had presented an alternative narrative, taking joy in their art and expressing a desire to leave a better life for their kids."
Curated by an interdisciplinary group of students from across The New School, Futurographies is a collaborative, cross-disciplinary exhibition that re-imagines the shared histories of Cambodia, the United States and France. The exhibition, which is on view at the The Sheila C. Johnson Design Center Arnold and Sheila Aronson Galleries, opens with a reception on Thursday, Nov. 19, 6:00-8:00 p.m.
While the interconnected histories of the three countries are marked by violence, the multi-media exhibition explores another set of parallel histories in which alternate futures were (and are) written, proposed and even determined. Featuring visual art, photography, music, performance, sculpture, installation and text, it reveals the ways in which people imagine and generate futures in contexts most often represented as ones of crisis, disaster and victimhood.
"Among these three countries there are people imagining, challenging, and disrupting ideas of the future and this exhibition presents some of these moments," Gonzalez says.
Initiated by a Provost's Office Innovations in Education grant and funded by many others, including the University Student Senate, the exhibition is the outcome of an experimental workshop that brought together ethnographic and curatorial methodologies, including 10 months of research in New York with brief fieldwork (some of which was recorded in an Instagram field diary) in Phnom Penh and Paris. It involves students, faculty and recent alumnae. from across the New School community: Gonzalez (Parsons '16) Gerspach (NSSR '15), Laura Belik (Parsons '16), Veija Kusama-Morris (Lang '16) and Andrea Gil (Lang '15).
"Our challenge was to create an entirely new pedagogical experience, combining creative curatorial strategies and ethnographic research methodologies, and to do so while being attentive to three interlinked, yet individually complex, histories," said New School faculty members Jaskiran Dhillon and Miriam Ticktin who, with fellow faculty member and SJDC Director/Chief Curator Radhika Subramaniam, led the interdisciplinary workshop. "This was a real experience of encounter, research and reflection for all of us."
"This moment, as it takes shape in the Aronson Gallery, is an exciting time when all the ideas, discussion and back-and-forth must finally materialize in space," adds Subramaniam. "I know everyone is working with nervous anticipation to share it with our first audience here in New York."
The exhibition will travel to the Parsons Paris Gallery in April 2016 and is expected to go to Phnom Penh as well.