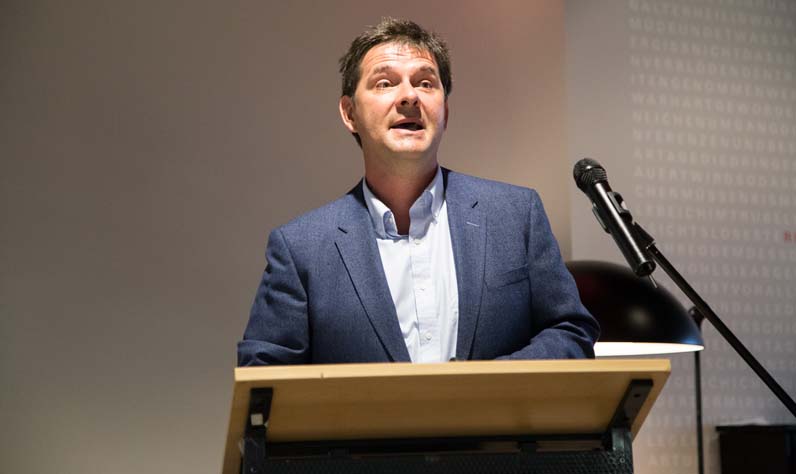 A Coming-Out Party for the True Sharing Economy
Whenever we swipe through Tinder profiles, order an Uber, or purchase books on Amazon, we, as consumers, are engaging with the on-demand economy.
And it's no surprise that we do, given the low prices and convenience afforded by many online companies. However, says Trebor Scholz, associate professor of culture and media studies at Eugene Lang College, these consumer perks "come at a steep social cost."
Digital laborers—the people working in the shadows of the on-demand economy—confront a number of threats to their lives and livelihood: wage theft, poor working conditions, employee surveillance, job insecurity, inadequate benefits, and more.
"Digital labor is the shiny, sharp tip of a gargantuan neoliberal spear that is made up of deregulation, increasing inequality, the shift from employment to low-wage temporary contracts, and union busting," Scholz says. "Anything that becomes digital can eventually get exploited."
However, a countermovement—what Scholz has dubbed "platform cooperativism"—is underway: a shift toward a true sharing economy, one in which people co-own and co-govern the platforms they contribute to and rely on.
The New School celebrates this countermovement with Platform Cooperativism: The Internet Ownership and Democracy on Friday and Saturday, November 12 and 13 (visit the Platform Cooperativism website to register). The program will include discussion sessions, screenings, monologues, legal hacks, workshops, and dialogues, as well as a showcase of projects that will be evaluated by celebrity judges.
"This is your chance to get on the ground floor of the next Internet and to help make it a reality," says Scholz, who is convening Platform Cooperativism with Nathan Schneider, visiting assistant professor of media studies at the University of Colorado Boulder.
So, what does that reality look like? Scholz, who teaches the classes Global Internet Activism and Play and Toil in the Digital Sweatshop, among others, envisions the establishment of worker-owned cooperatives that could design their own apps-based platforms, fostering truly peer-to-peer ways of providing goods and services. Signs of the countermovement can be observed in taxi drivers in Denver and Washington, DC, who have set up cooperative companies and control their own hailing apps; worker-owners of New Zealand-based Loomio, who have produced a decision-making platform now being used by governments, schools, and communities around the world; and Loconomics, a company that is building a worker-owned alternative to TaskRabbit.
Scholz says that while online companies have granted "new kinds of flexibility" to workers (including, in the case of Uber drivers, the ability to make their own hours), those companies are also flexible with the law: They have been known to withhold wages, flout regulations, and "hire and fire much more freely, at great cost to people living paycheck to paycheck," Scholz says.
The issue of digital laborers, many of whom are low-wage, temporary contractors, has taken on greater urgency. According to Scholz and Schneider, 80 percent of large American corporations are planning to substantially increase their use of flexible workers in coming years.
"Over the long term, whoever owns and controls these platforms will determine who benefits from the emerging future of work," Scholz and Schneider wrote in a recent article on Fast Company's Co.Exist.
Platform Cooperativism will be an opportunity for coders and worker cooperatives, scholars and designers to come together to work toward structural economic change—in other words, to put control of online platforms back into the hands of digital laborers.
"Platform co-ops could set a new bar for fairness and democracy in the economy," Scholz and Schneider say. "Rather than permitting a race to the bottom, the Internet can be a means of introducing workplace standards and protections like we've never seen before. To get there, we'll need to get better at recognizing that the people with whom we interact through algorithms are, in fact, people, worthy of dignity, a livelihood, and a say in their circumstances."