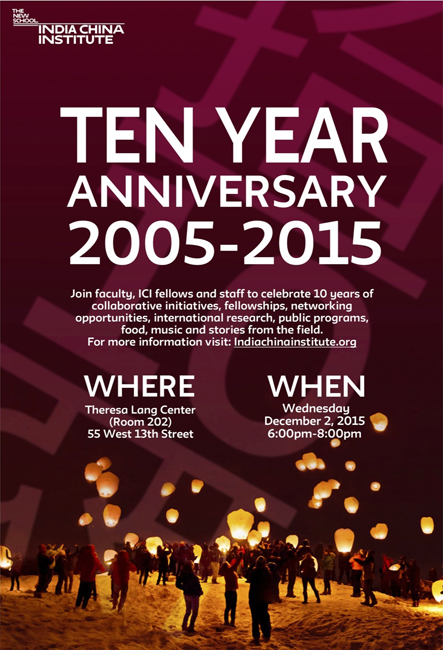 India China Institute Celebrates 10th Anniversary
Since its founding a decade ago, the India China Institute (ICI) has become a leading center for the study of the endlessly complex relationships between India, China, and the United States, offering research fellowships, student funding, and a public speakers series.
But for one evening, the ICI will put aside its crucial research to celebrate its 10th Year Anniversary. The festivities—including music, India and Chinese food, speeches and stories—will be held on Wednesday, Dec. 2, 6:00-8:00 p.m. in the Theresa Lang Community and Student Center, (Room 202), 55 West 13th Street.
The ICI is currently undertaking a wide range of initiatives. Learn more about them here:
Climate Change and the Arts, a series of meetings between ICI and artists from India, China, Nepal and the United States about the role of artists and creative practitioners in addressing climate change.
Economies and Societies, an initiative that supports critical scholarship on the ways that "economy and society" are being theorized across both geographies and academic disciplines as they relate to India, China, or both.
The China-India Scholar-Leaders Initiative, a multi-year project funded by the Ford Foundation that supports the development of promising young scholar-leaders who are using interdisciplinary research methods to grapple with complex questions related to prosperity and inequality in India and China.
The Sacred Himalaya Initiative: Sacred Landscapes and Sustainable Futures, a Luce Foundation-funded initiative in which ICI, in partnership with a team of researchers from India, China, Nepal and the United States, study and document relationships between religion and ecology, sacred landscapes, pilgrimage routes and ecological, economic and cultural sustainability and resilience in the Himalaya.
Emerging Scholars, a program designed to provide a platform for both advanced level graduate students in professional fields as well as current PhD scholars and those who received their PhD within the last five years, to present and receive feedback on their ongoing research and to discuss recent advances and new trends in research on India and China.