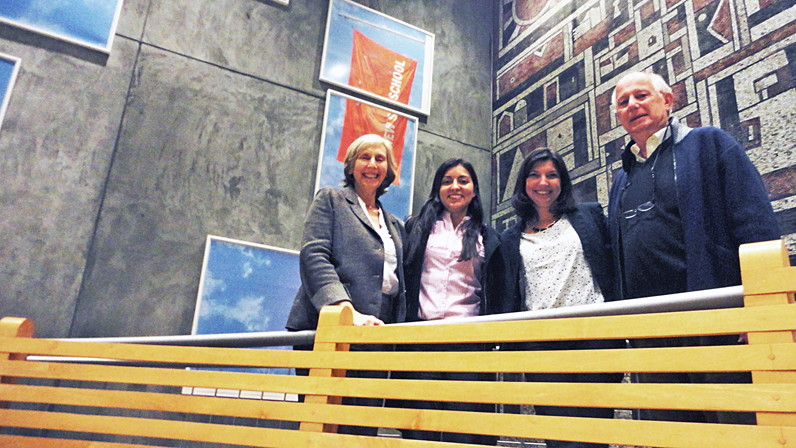 Kirchner Fellows: A New Generation of South American Leaders
For the last five years, The New School's Observatory on Latin America (OLA) has made it its mission to foster a new generation of South American political and community leaders.
Through the OLA's President Néstor Kirchner Fellowship—named after the late visionary Argentinian president—students from universities across South America have come to The New School to study, attend seminars, deliver public lectures, and engage with the university community.
This year, the OLA welcomes two new Kirchner Fellows. Here's your chance to get to know them:
Name: Analía Calero
University: Universidad Nacional de La Plata, Argentina
Field of Study: Economics
Name: Magdalena Bas Vilizzio
University: Universidad de la República, Uruguay
Field of Study: Law and Courts, International Relations, Public Law
How does it feel to be named a Kirchner Fellow, to have the opportunity to come to New York City, and to study at The New School?
AC: It is a unique and wonderful opportunity to be awarded a fellowship named after a president who transformed Argentina for the better. For those of us in Latin America who take a human rights approach to policymaking and who work in the public sector or volunteer at civil society organizations, it is a dream to spread the word of the progress made in our countries and to show that it is possible to improve living conditions for everyday citizens when there is political will. Also, coming to The New School—a university located in New York that is well known for its heterodox approach—will give me the chance to make my voice heard to a multinational and multicultural group.
MBV: It is an honor, but also a responsibility, to come to The New School. This is a great opportunity to meet other researchers, professors, and students who are interested in the same topics I study. I am sure that those meetings will enrich my research with new perspectives and ideas to develop in the future.
What are you hoping to learn from your time here, and what do you hope to teach the New School community?
MBV: I hope to access different perspectives on international relations and South America's role in the international community. And I would like to transmit the importance of discussing the investor-state dispute settlement [ISDS], especially if disputes are directly related to human rights, as well as how South American countries are responding to this issue.
AC: It's rewarding to talk face-to-face with experts in so many topics, such as nongovernmental organizations, the media, youth, development, and labor markets. It's also rewarding to have a space to share experiences and concerns about what is happening in our respective countries and to share ideas for improving the welfare of nations, particularly those that are most vulnerable.
What projects, papers, and initiatives will you be working on while you're at The New School?
AC: I will be working on projects around youth and inequality through a holistic perspective that takes economic, gender, territorial, and ethnic concerns into account. I will be presenting a working paper that will explore the inequalities experienced by young people in Argentina with regard to employment, income, health, education, and digital inclusion. In addition, I will pinpoint public policy interventions that have reduced this inequality over the last decade. I focus on youth, as it is a population that presents opportunities and challenges for public policies aimed at improving intergenerational welfare.
MBV: I will research the ISDS, an instrument of international law that grants an investor the right to use dispute settlement proceedings against a foreign government, and Bilateral Investment Treaties [BITs] that are in force or were signed by South American states.
Michael Cohen, the director of the Observatory on Latin America, called Néstor Kirchner a "leader of great vision and determination, a man who challenged orthodox thinking when he led Argentina out of the 2001 economic crisis with a recovery built on the principles of social justice." How do the principles of social justice inform your values and work?
MBV: As a researcher, when I choose a topic to analyze, the principles of social justice are in first place. For instance, I am now studying ISDS in South America, a topic that is connected to sovereignty and development, as well as other areas of international law, including human rights protection. My focus is on whether or not states are able to pass laws to protect public health, as in Philip Morris v. Uruguay; to freeze public rates of essential basic services in times of economic crisis; to protect the human right to housing, as in CMS v. Argentina; and to guarantee access to water, as in Aguas del Tunari v. Bolivia.
AC: When Néstor Kirchner said he wanted to propose a dream, not only did he propose it, but also he made it happen. As an economist and specialist in labor markets and social protection, I have observed that in the last 12 years, Argentina has progressed considerably in its design of public policies that take basic rights into account and that the state has regained its role as guarantor of these rights. Historically the working population in the informal sector and the unemployed have been denied the right to social protection with contributory systems. In response, over the last decade, Argentina has implemented a set of policies for social protection aimed at improving various aspects of welfare: decent employment, income, health, education, digital inclusion, access to housing, and more. These policies benefit specific segments of the population, particularly vulnerable children, youth, and the elderly. Our president left a positive legacy. Yet there is still a lot of work to do. The most important thing that he demonstrated is that if there is a political will, there's a way.