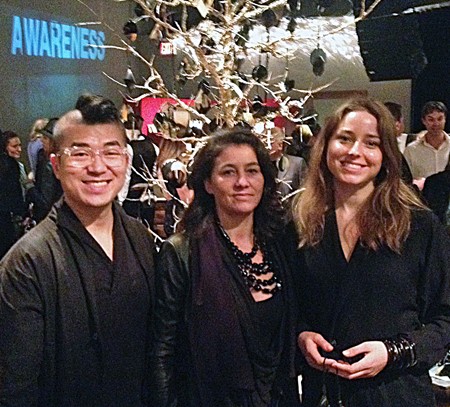 Parsons Alums, Haitian Artisans Showcase Products at Donna Karan's Urban Zen Marketplace
Last night at Urban Zen—Donna Karan's West Village boutique of international fashion, furniture and accessories—designers, buyers, educators, and even a few celebrities (we're looking at you Bernadette Peters!) gathered to admire a gorgeous display of statues made of reclaimed fabrics, geometric ornaments carved from soft obeche wood and vases wrapped in dried tobacco leaves.
The projects, which were on sale as part of Urban Zen Soulful Economy Marketplace, are the creations of Haitian artisans working under the tutelage of designer Paula Coles and Parsons School of Design alumni and faculty stationed at Donna Karan's Design, Organization, Training (DOT) Center in Port Au Prince, Haiti.
For Haitian artisans, the DOT is a rare opportunity to receive the training and tools needed to complete their designs. For Parsons graduates—Mochi Liu (Architecture '15), Amanda Evengard (Product Design '15), Ekaterina Kulikova (Fashion Studies '15) and Jennifer June (Interior Design '16)—it's a chance to share their skills and engage with Haiti's thriving artisan community.
"Working with the artisans of Haiti with the support of Donna and Paula has been an amazing experience," Liu said during the Urban Zen Soulful Economy Marketplace. "At the beginning, I thought we were all going down there to teach. But soon, we found out that we were also there to learn."
Founded by Donna Karen's Urban Zen Foundation, the DOT was established to help bridge Haiti's traditional artisan techniques with modern design innovations to succeed in today's global marketplace. This year, Parsons graduates have made two trips to the DOT where they have led workshops for local artisans in jewelry, textile development, leather, pottery, hand dying, printing and beading.
Parsons was integral in the creation of the DOT. From Donna Karan's initial idea to support local Haitian artisans to the realities of a new space and a concrete plan for DOT, the project has been almost two years in the making. Alison Mears, director of Parsons' Healthy Materials Lab, worked closely with Karan's Urban Zen Foundation to design and develop the design of DOT.
"This project embodies many of the core values that make Parsons the groundbreaking institution that it is: a commitment to social engagement, a focus on sustainable design, and a strong connection to the global community," said Parsons Executive Dean Joel Towers. "Students who travel to Haiti have had the opportunity to gain invaluable experience by working alongside a fashion icon and the local artisan community to elevate Haiti's design industry."