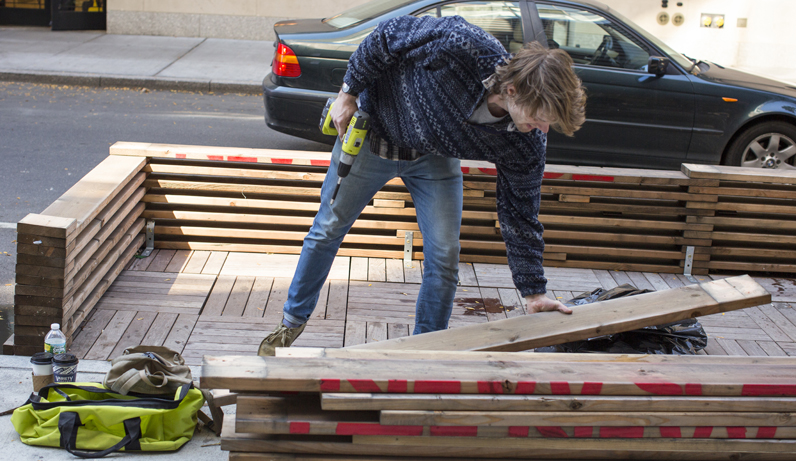 Parsons Street Seats Project Is Broken Down, Will Be Built Again
As Preet Kalra (Architectural Design '15) disassembled the pop-up seating site built by Parsons students on the corner of 13th Street and Fifth Avenue, he reflected on a project that had improved the quality of life in the neighborhood and provided a "great cross-disciplinary learning experience" for him and his classmates.
"The beauty of this project was the willingness of the students to take time out of their schedule to design and realize a project, within the physical environment of the city," Kalra says. "It was an absolute treat seeing the people of Manhattan engaging with the space. Any time I walked by the spot, it was full of people."
Kalra was one of 10 students from Parsons' Architectural Design, Interior Design and Product Design who built, and this week deconstructed, the temporary project, which featured a sleek wooden platform adorned with seats and tables made with sustainably harvested Ipe wood. It was one of the sites of Street Seats, a program of the Department of Transportation that enables the creation of seasonal public open spaces at locations where sidewalk seating is not normally available.
Continuing The New School's commitment to sustainability, the wooden planks will be donated to and reused by Rocking the Boat, a nonprofit organization that creates opportunities for young people in the South Bronx to build wooden boats, row and sail, and restore local urban waterways.
"The reuse of materials for this project is especially important because it is seasonal and temporary, so the materials need to have much longer lifecycle beyond the Street Seats project," says Nick Brinen, assistant professor of Interior Design and the faculty member leading the project. "A consciousness of material life cycle, reusability, and resourcefulness can provide added value beyond the design and function of the public space."
Brinen hopes to make Street Seats an annual tradition at Parsons, with future iterations centering on "materiality, fabrication techniques, and a greater focus on vegetation and shade," he says.
"The project definitely filled a gap the neighborhood needed," Brinen adds. "This type of project enriches street life and activates it by establishing place. And, if thoughtful design is implemented, it can easily become a meaningful place for the public."